Kids must have fun dining with exciting themes, entertainment, delicious food, drinks, and tea at Kid Friendly Restaurants In NYC. If you are about to travel to New York City with kids, you will find many exciting entertainment spots, amusement parks, gaming arenas, and fun restaurants.
Every time you visit New York City, you will get new excitement for the trip. You will find fantastic cafes, restaurants, and the best rooftop bars in NYC for dine-in options. You can sort out the excellent family cafes and restaurants where kids can get the best food options and some entertainment.
Here we discuss fun restaurants for kids with exciting interiors, blazing colors, lovely music, and more entertainment, specifically for little ones. You can also visit all-inclusive resorts in New York for more fun and joy with your little ones and enjoy the best holiday deals.
1. Carmine's Kid-Friendly Italian Restaurant in New York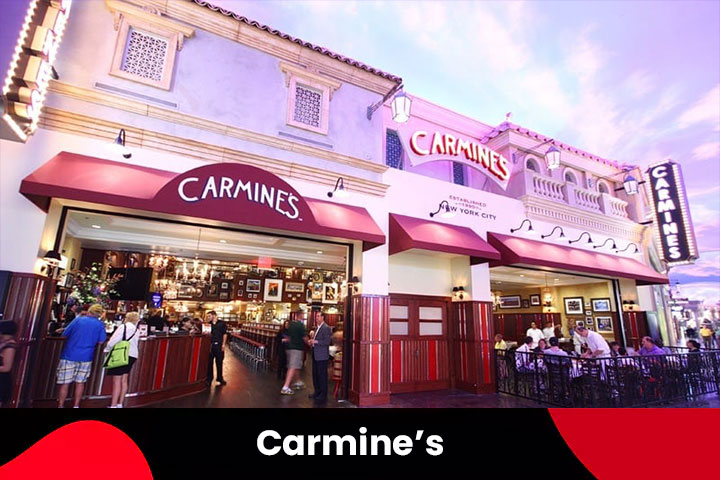 It's a quite bustling restaurant spacious at the weekends. People loved to dine in with family and enjoy delicious Italian meals, savory bites, and cocktails at the bar in this remarkable family eatery with luxurious interiors and a friendly atmosphere. You need to make a reservation for the weekends to avoid long waiting times for the table with kids and family. Walk-ins are welcome, but the estimated waiting time can be an hour long.
The meals are yummy, and they serve enough food potion even if it can be left after dinner, so you must choose the deals carefully according to your family members and their appetite. You can check the menu before visiting the restaurant to choose the best meal for dinner, and if your kids are picky eaters to select the food, you can help them go through the menu online.
It has few outlets outside NYC, but the New York location, Times Square, is the most renowned location for its vibrating electrical energy, shimmering lights, billboards, bars, restaurants, and casinos. However, every hotel and restaurant on Times Square has its own ambiance and specific flavors, but still, this restaurant is awesome for the yummy Italian cuisine, drinks, and great service. Kids love pasta and pizza, so it must be a paradise for the little ones to enjoy cheesy flavors with sweet treats.
2. Dinosaur BBQ Kid-Friendly Restaurant in New York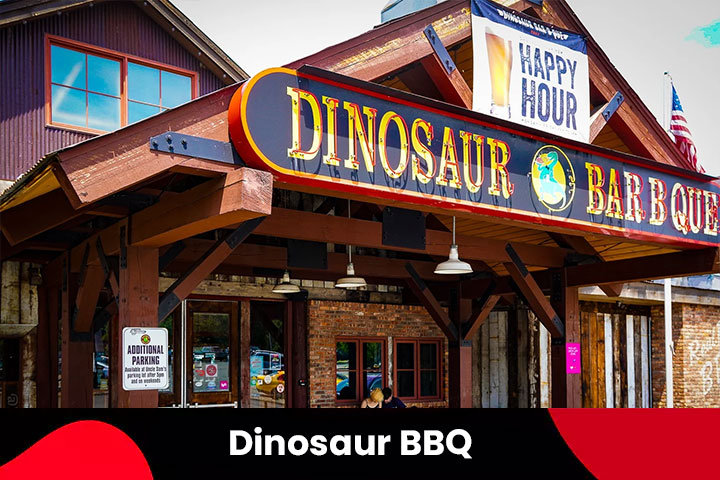 Dinosaur BBQ is a pet-friendly BBQ house with a specific BBQ and meat menu for the spicy, chilly, and hot beef briskets, roasted meat, drinks, and more delights for the family and fun. They serve the flavorsome kid's menu like BBQ chicken wings, beef ribs, BBQ mini sliders, and big meat bites.
It's a casual outdoor space with a perfect patio setting, firepits, and BBQ grills to enjoy live meals with kids and family. This place is the best for outdoor birthdays and parties, casual dinners, and live food stations. Its famous BBQ plates are BBQ Pork Ribs and beef Brisket Plates, Dino sliders are Prime Briskets and Fried Greens, and other plates are Chicken Steaks and Fried Catfish.
3. American Girl Place Kid-Friendly Cafe, New York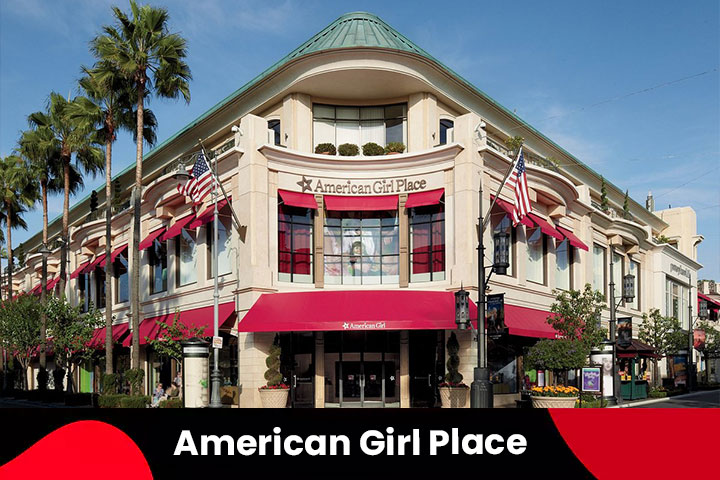 American Girl is a renowned toy brand and its remarkable outlet is at Rockefeller Plaza. You can get the most fascinating American dolls, doll houses, toys, colorful outfits, kid's comics, stories, and much more to explore. It's a girlish heaven decorated with bright colors and lovely toys around. The cafe was at the other end of the store in between the fascinating dolls and toys with a beautifully decorated entrance.
At the entrance, you need to choose the American dolls to join you at the lunch or tea. With the vibrant colorful ambiance, sparkling lights, and soft interiors, you can enjoy tasty bites and tea with the little dolls and it's a place for the little girls to play, have fun, and enjoy meals with their playful friends. Media influencers, celebrities, and artists often visit this lovely cafe to explore the girlish sweet vibes with American Girls in NYC. There's a large hall in the cafe for birthdays and parties, and you may plan a great birthday party for your little girls at this fabulous place in NYC.
4. Benihana Kid-Friendly Restaurant in New York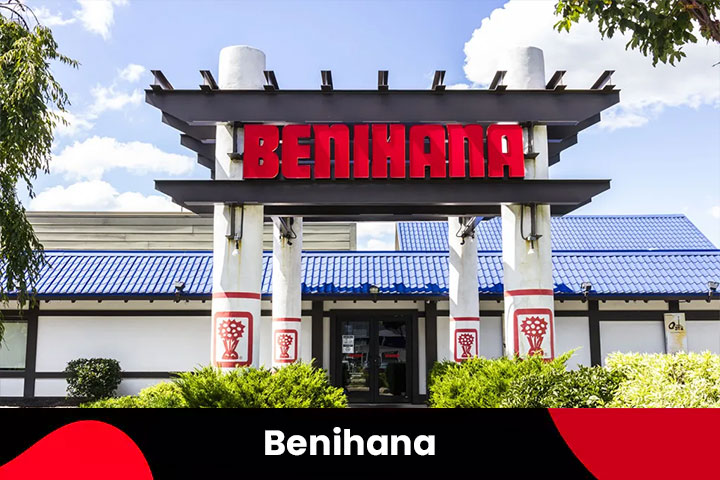 Benihana is a Japanese Restaurant and it has a kid-friendly menu and a soft environment. You can enjoy the flavors of Japanese cuisine with your kids and family. They serve hot, spicy, appetizers and plates with sweet treats and drinks. Its famous menu is Hibachi Steak, Hibachi Chicken, and Rainbow Sherbet.
Kids will love the food, desserts, drinks and it's friendly service. The restaurant is the true flavor of Japanese food in New York City.
5. Nom Wah Tea Parlor Kid-Friendly Restaurant in New York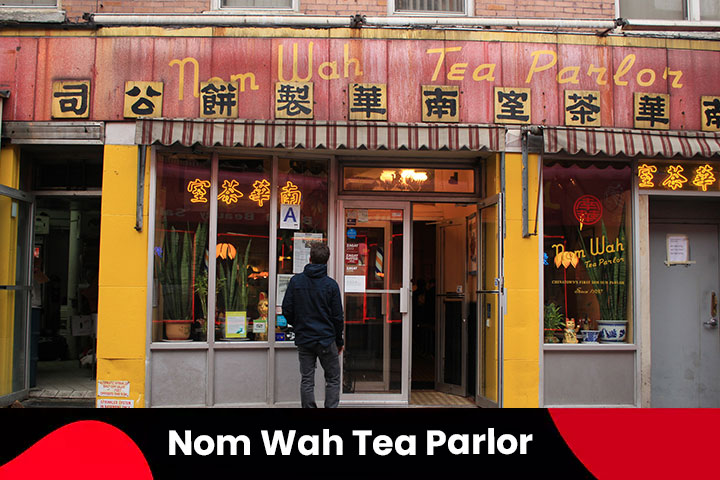 Nom Wah Tea Parlor is the first Chinese tea parlor and Dim Sum restaurant in the heart of New York City. It serves the spicy, chilly, and hot flavors of Dim Sum and various delicious Dumplings with desserts, drinks, and tea. The menu is spacious for kids and Dumplings lovers.
This historical dine-in spot is in Chinatown, the home of several American Chinese people, their culture, architecture and design, food, and flavors of the delicious Chinese cuisine. This place is marvelous and the iconic spot for Chinese food and culture and they have a home delivery option. So, you can order the pre-cooked frozen dumplings at your doorstep and enjoy your meal at your home.
6. Fried Man's Kid-Friendly Restaurant in New York.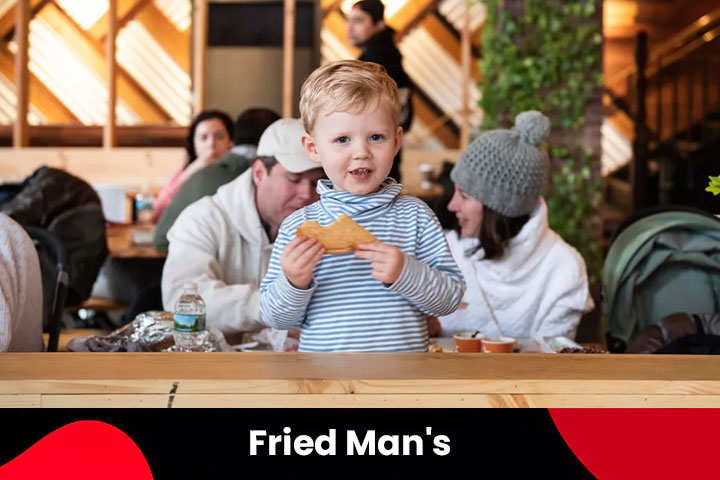 The Fried Man's delicious menu is always the top priority for food lovers in New York. Its kid-friendly menu specialty has waffles, pancakes, soups, salads, fried chicken, and burgers are the favorite for kids and families. The restaurant staff is friendly and has a classic ambiance for kids and families. You can enjoy the sweet desserts, starters and appetizers, dinner plates, and drinks variety options at this chic dine-in spot in the famous location Hell's Kitchen, NYC.
7. Gordon Ramsay Kid-Friendly Restaurant in New York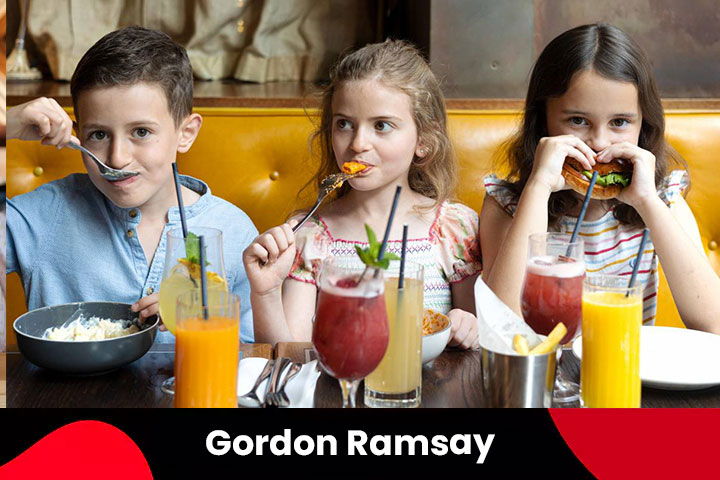 Gordon Ramsay is in the iconic location of Times Square in New York. The most popular and classic location, every time bustling with crowds of tourists, travelers, and locals and rushing with events, fun, and entertainment. The restaurant has a variety of flavorsome meals and drinks, but this dine-in spot is famous for the Fish and Chips deals. The restaurant has several locations, but this location has a remarkable ambiance with the chilly flavors of meals.
The restaurant offers a complimentary meal for kids from the main course, so if you have kids in your family, visit the restaurant and enjoy the delicious treats from the authentic taste of NYC.
8. OlDays Nomad Kid-Friendly Restaurant in New York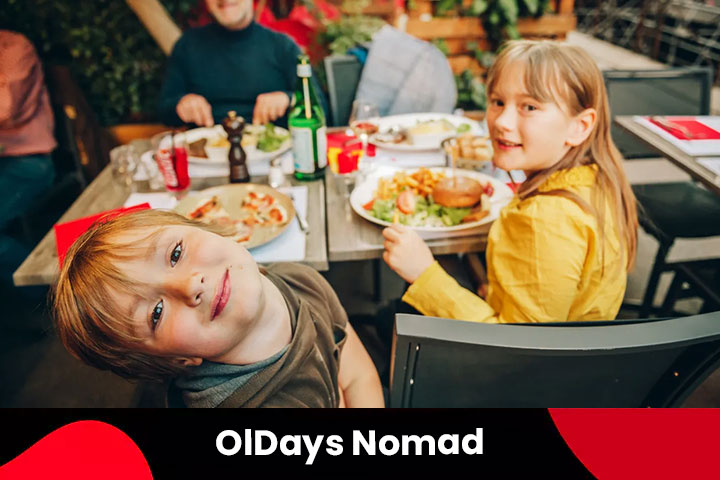 OlDays restaurant has other locations, but this Broadway spot has a delicious menu for kids. Their breakfast, lunch, and dinner menus have delicious meals, but most of the popular kid's meals are Waffles, Pancakes, Avocado Toast, Cinnamon Rolls, Peanut Butter Cookies, Chicken Pocket Sandwiches, and Chicken Wraps. This fantastic chic restaurant serves yummy savory bites, drinks, coffee, lunch, brunch, dinners, and cocktails. It's a fascinating dine-in spot for kids and family in NYC.
9. Meat Ball Shop Kid-Friendly Restaurant in New York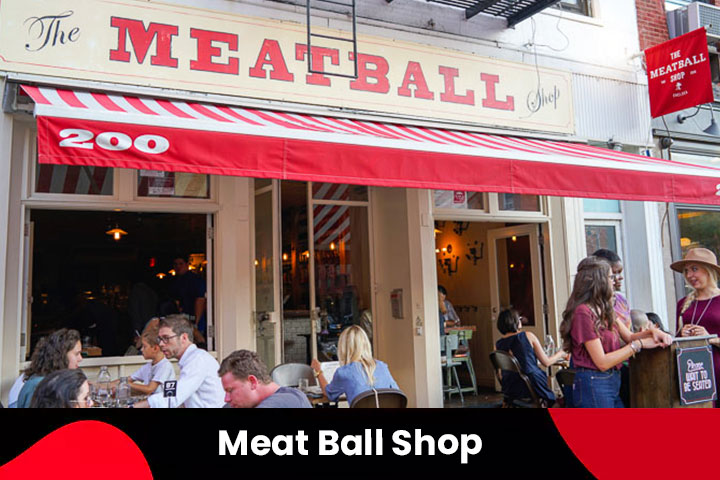 Meat Ball Shop serves the flavors of meatball dishes with delicious sauces. Its authentic taste, elegant interiors, and friendly ambiance are perfect for kids and families. Their spacious kid's menu has the classic chicken and veggies meatballs with classic tomato and parmesan creamy sauces and sides with mashed potatoes, spaghetti, or rigatoni with their popular ice cream sandwiches. The restaurant offers happy hour in the bar from twelve to six p.m. on regular days. They serve vegan options and gluten-free meals for selective customers.
10. Jackson Dinner Kid-Friendly Restaurant in New York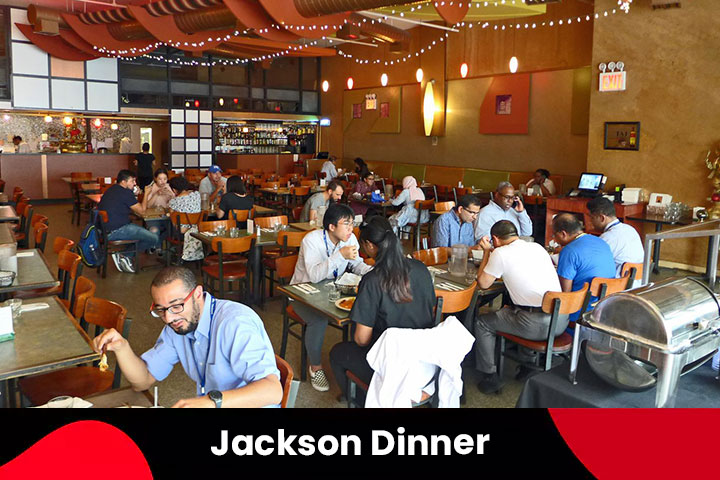 Jackson Dinner is a traditional Indian restaurant in Jackson Heights location, Queens. It was a small dining spot for a few years, but now it has been upgraded into a fantastic restaurant with a large dining area, friendly service, comfortable atmosphere, and delicious meals. Its popular menu is spicy biryani, chicken masala, yogurt curry special, tandoori chicken, and chili paneer. Kid's special flavors are Hakka Dry Chili Chicken, Malai Kulfi, Ras Malai, Lassi, and Ice Creams. So, if you visit NYC and want to taste some traditional Indian cuisine, go for some Asian vibes, Indian culture, spices, and masala tea at Jackson Dinner restaurant.
11. Johns of Bleecker Street Kid-Friendly Restaurant in New York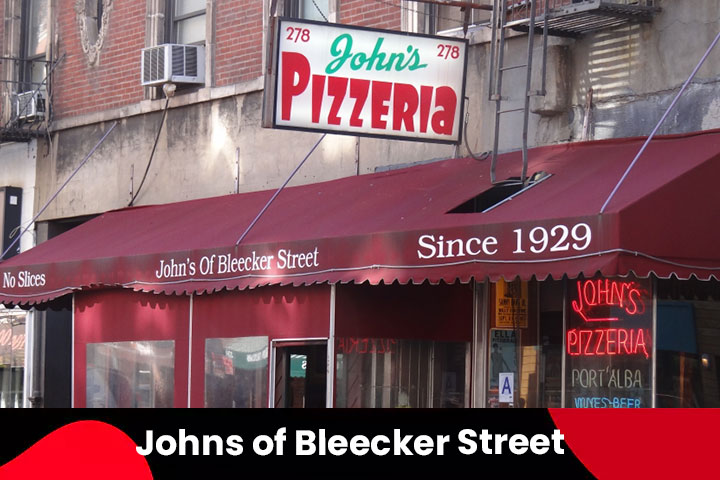 Johns of Bleecker Street is a pizzeria that serves authentic New York-style coal oven pizza, pasta, and cheesy treats spacious for kids. Adults or kids, everyone loves New York-style pizza, and this awesome chic offers delicious flavors for the crust pies with spicy and hot sauces and cheesy toppings. Kids can choose mozzarella cheese sticks and meatball spaghetti with a pizza slice to add a sizzling taste.
12. Juliana's Pizza Kid-Friendly Restaurant in New York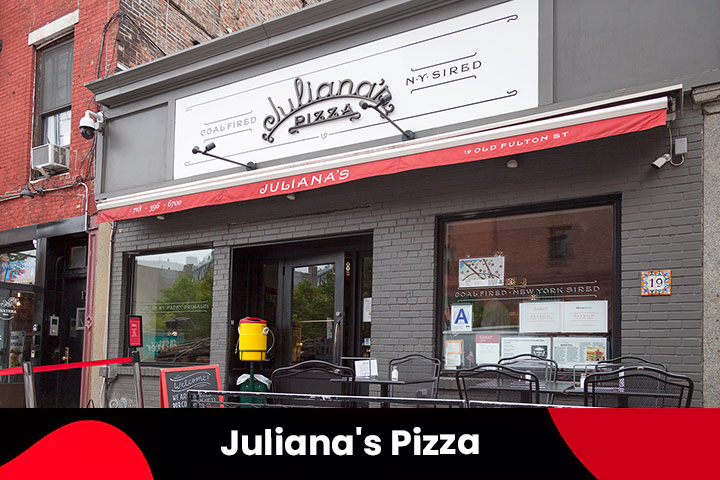 Kids love pizza and cheesy slices with ice cream, whether in NYC or anywhere. Juliana's is another pizzeria that serves delicious pizza with sizzling hot sauces, cheesy toppings, and thin crusts. Kids can choose salads, soups, meatballs, spaghetti with berries and cream, ice creams, and popular cheesecakes. Their most delicious pizza flavors are Margherita and Marinara with Argula, Pepperoni, Ricotta, Sausages, Mushrooms, and meatball toppings filled with mozzarella cheese and hot sauces.
13. Alice's Teacup Restaurant in New York City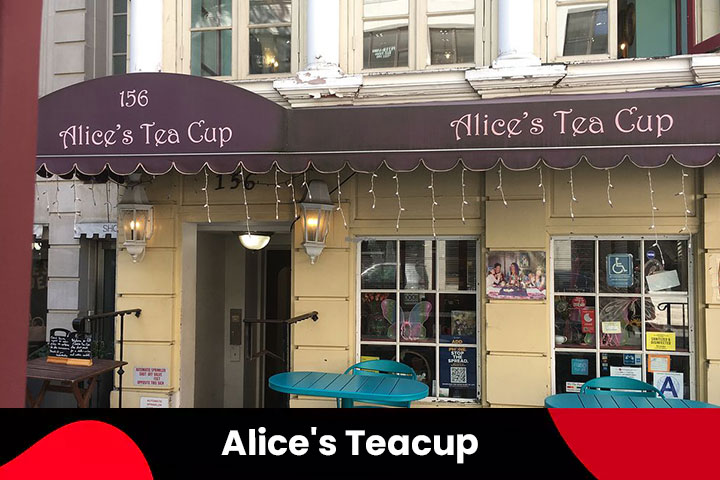 Alice's Teacup is an exciting theme restaurant based on Alice in Wonderland. This children-friendly restaurant in NYC has a lovely atmosphere and tasty treats for the little ones. You can have a great tea party with cakes, pastries, scones, cookies, loaf cakes, finger sandwiches, salads, iced tea, regular tea, and coffee.
14. Junior's Cheesecake Restaurant in New York City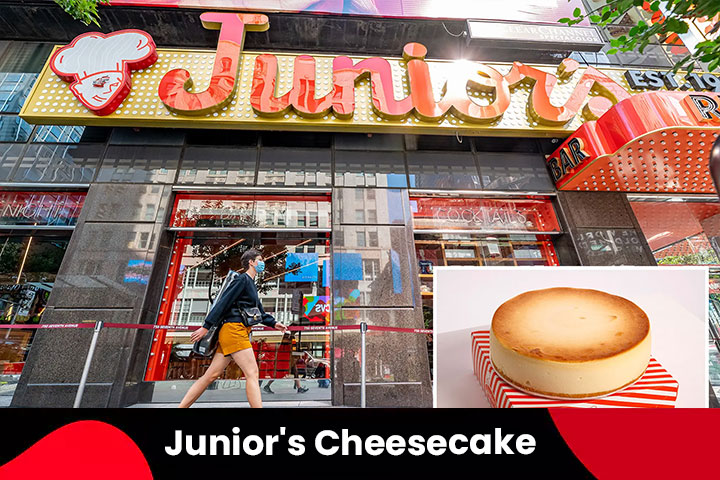 Junior's is an old bakery and family-style restaurant in NYC, perfect for kids and their families. The Restaurant is famous for its cheesecakes and kids' splendid themes. It's one of the best restaurants for kids in NYC.
They also offer other delicious top meals, including soups, salads, toasts, pancakes, BBQ wings, Chicken tenders, sandwiches, burgers, seafood, and beef tender BBQ. The bar has wines, beer, and craft cocktails. Various celebrities and TV stars visited this legendary spot, and it has exciting photo ops.
15. Ellens Stardust Diner Restaurant in NYC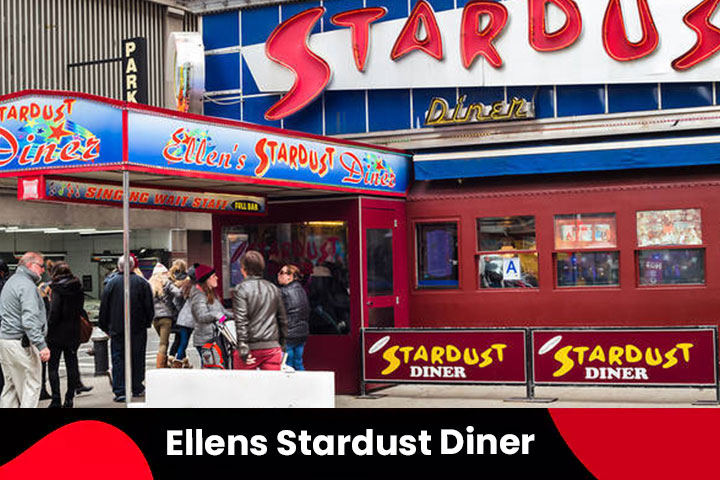 Ellens Stardust Diner Restaurant serves relish food and drinks on Broadway, NYC. It's one of the best restaurants for kids in NYC. It has exciting, fun interiors and decors with a delicious menu, and the renowned Broadway performers play live entertainment; lovely musicals and shows are much more fun for kids and their families.
16. Parm Italian Restaurant in NYC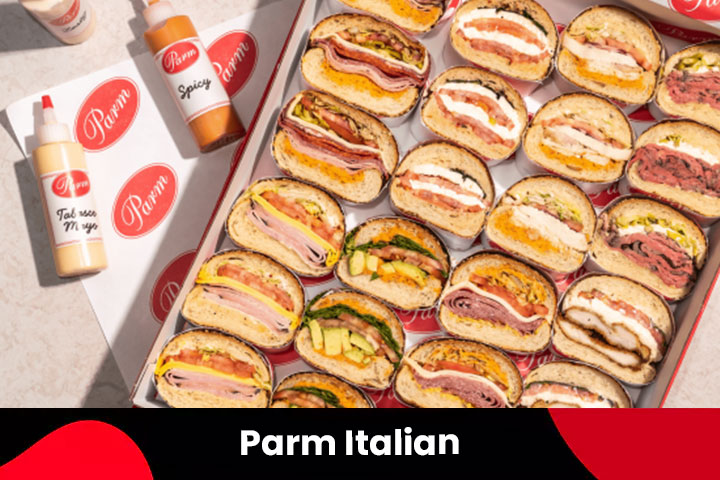 Parm Italian Restaurant is one of the finest Italian Best restaurants in NYC. The flavor of some meals, appetizers, and lovely drinks is not as much as before. The Kids enjoy their yummy food; Chicken Tenders with French Fries, Pasta, Spaghetti Meatballs, and Signature Parm desserts.
17. Brooklyn Farmacy & Soda Fountain in NYC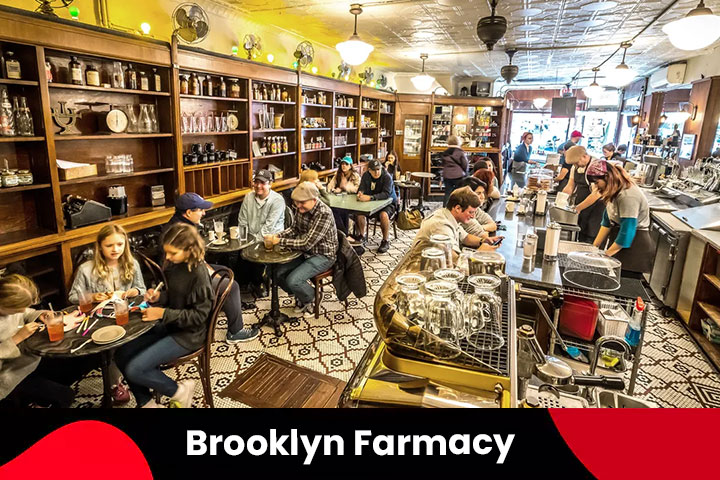 Brooklyn Farmacy & Soda Fountain is the 50s themed Ice cream parlor and soda fun restaurant for kids. It's one of the best family restaurants in New York. But its yummy sodas and ice creams are always adorable for little ones and their parents. The menu includes ice cream scoops, sundaes, Hot cocoa, Hot Chocolate, Milk Shakes, Tea, Coffee, and Ice Cream Floats. Beer and Wines are there for adults!
18. Black Tap Craft Burgers & Beer in NYC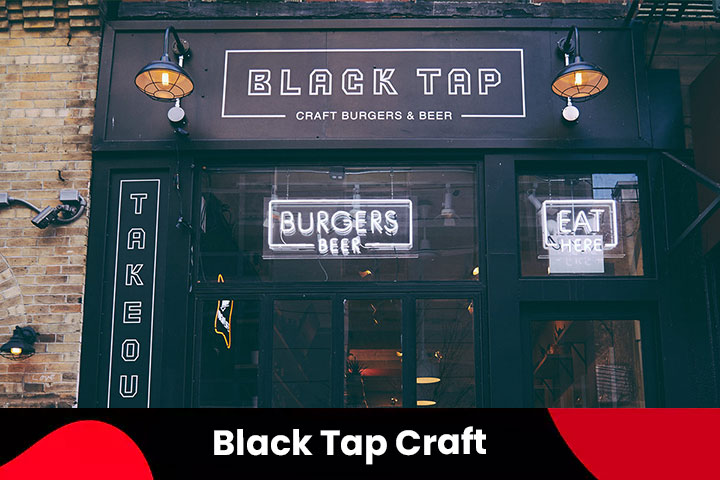 The Black Tap Craft Burgers & Beer is a small Burger restaurant with vibrant decor and kids' games characters and murals on the walls. It's a perfect Kid's Restaurant in NYC. The Restaurant serves delicious burgers, salads, chips, hot wings, chicken sandwiches, fries, hot sauces, and the kid's favorite Craft Classic Shakes. Beer, Wines, and cocktails for adults also serve at the Restaurant.
19. Cowgirl Restaurant in NYC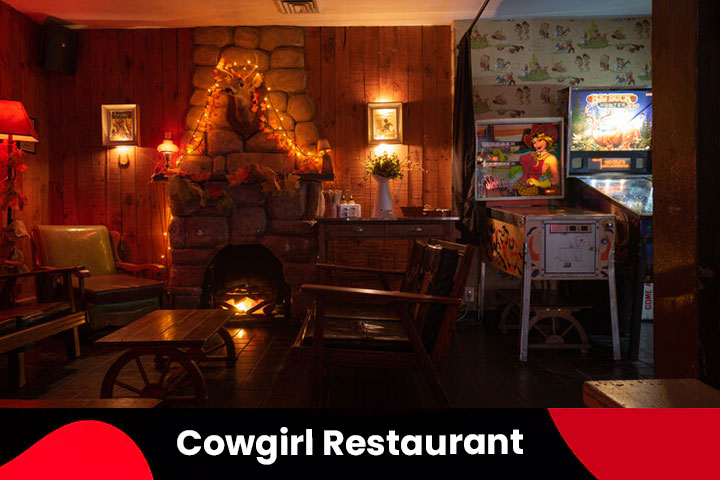 Cowgirl is a Texas Themed family-friendly restaurant in NYC with unique old-school interiors, simple countryside-style furnishings, and Warm Welcome like Texas friendliness. It is a lovely place for kids and their families to dine in, with a pleasant atmosphere and yummy food.
20. Harlem Shake Restaurant in NYC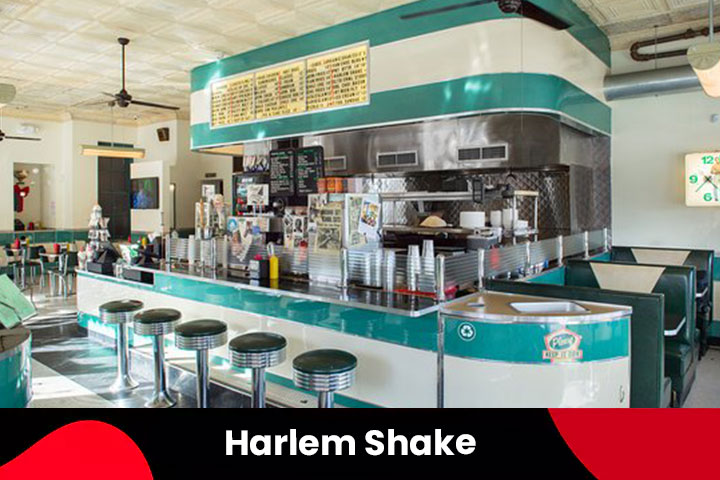 Harlem Shake Restaurant is a casual lunch and dinner family dining restaurant for kids and families. It has a Classic School menu of burgers, fries, and shakes.
It has various delicious meals, but the Harlem Jerks Burger, Harlem Classics, Turkey Classics Burger, Classics Hotdog and Snoop Dog, Fires, Shakes, and Sodas are on the popular menu. The kid's favorite menu is Buttermilk Chicken Tenders and Fly Child. Exclusive beers and wines are available for adults.
21. Pig Beach BBQ Restaurant in NYC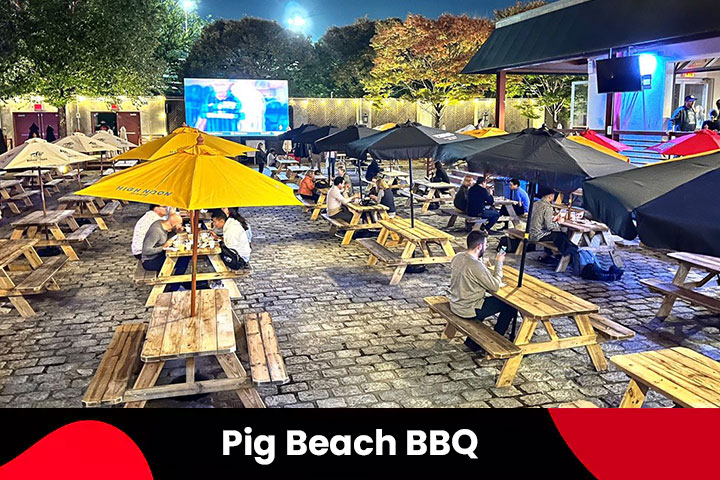 Pig Beach BBQ Restaurant is in Long Island Beach, Queens, NYC. It's a large BBQ restaurant with entertainment for kids. It has an extended patio, wooden furniture, simple decor like a picnic point, and an Open-air space suitable for kids and pets. The traditional BBQ menu includes platters, Grill, sandwiches, sides, Hotdogs, Sausages, Burgers, and Desserts.
22. Serendipity3 Restaurant in NYC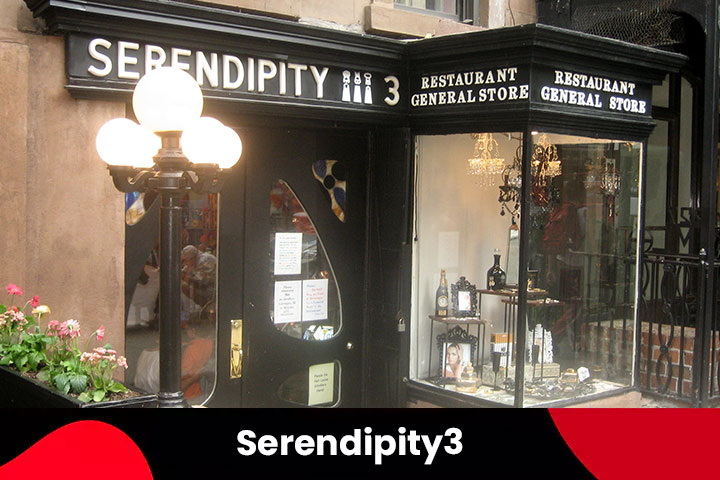 Serendipity3 is a lovely ice cream parlor and fun restaurant in NYC. The vibrant decors and interiors with enlightened chandeliers, pastel color furniture, and bright shades of fun murals on the walls attract the little ones, and their parents feel they are kids too. The variations of yummy flavors of ice creams, sundaes, cheesecakes, and whipped cream are fantastic, but the top of the menu is Frozen Hot chocolate.
23. Shake Shack Restaurant in NYC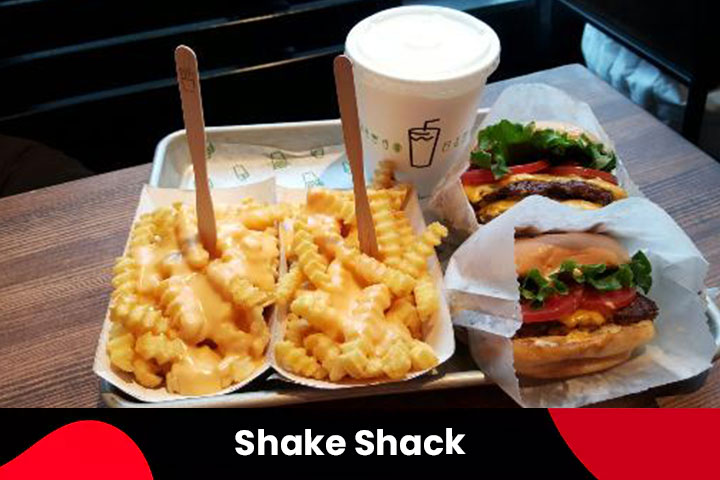 Shake Shack Restaurant has simple and elegant furnishings and decor. It serves famous American food; Burgers, Fries, Fried Chicken, Hotdogs, and shakes.
The top-of-the-menu desserts are chocolate shakes with cinnamon and frozen custard with dark chocolate. It's one of the best kid-friendly restaurants in NYC.
24. Los Tacos No. 1 Restaurant in NYC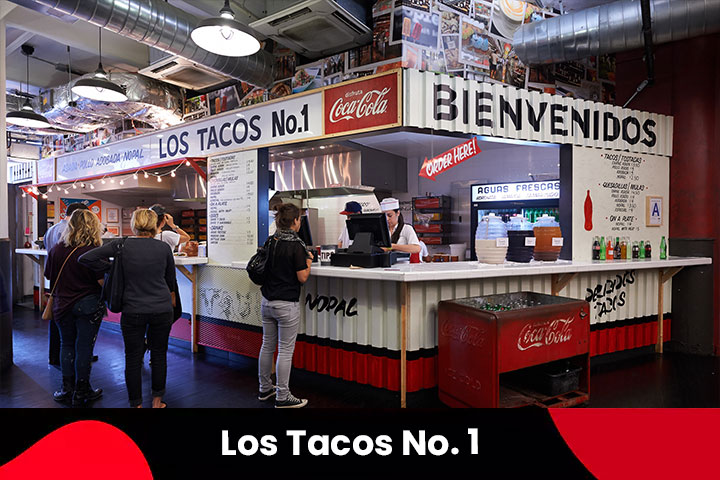 Los Tacos No. 1 Restaurant serves Mexican meals and has self-counter service. It's the great Kids friendly restaurant in NYC. The top of the menu is Mexican Tacos.
The other meals are Tostadas, Tortillas, Chips and Salsa, drinks, and sodas—simple and tasty meals for everyone.
25. Petite Maman Restaurant in NYC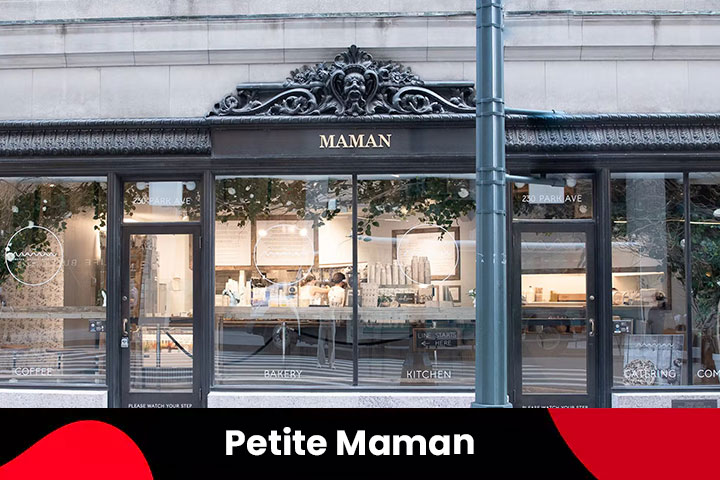 The Petite Maman is a French restaurant with adorable French decor, and the lovely kids' menu makes it unique for little ones and their parents. The kid's popular menu is Almond Butter and Fruit Compote, Comte Grilled Cheese, and delicious cookies. It's one of the loveliest kid-friendly NYC restaurants.
26. Vics Restaurant in NYC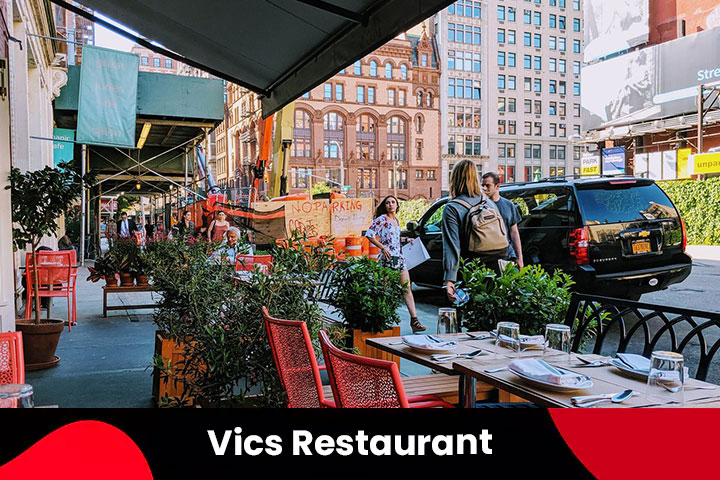 The Vic's Restaurant has a large patio for family dinners with kids and an indoor dining hall with excellent interiors and decor. The popular menu is pasta and pizza, the most desirable food for kids. The spaghetti, Gnocchi, Steaks, and Roasted Chicken with whiskey, Rum, and beer for adults add to the delicious meals.
27. Bubby's Restaurant in NYC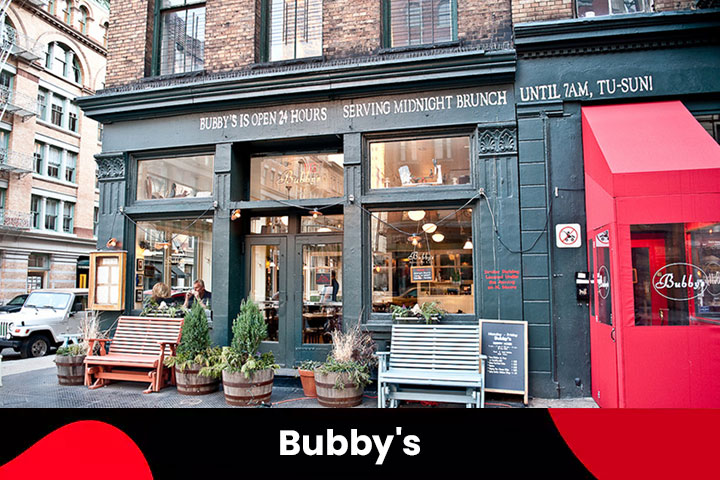 New York City has various top hotels and restaurants comfortable for kids and families. Bubby's Restaurant is one of them, and it has a lovely fun space for kids and exciting decor with fun paintings and bright colors. Top of the menu is Burgers, Sandwiches, Pancakes, Pastries, Fried Chicken, Sausages, Salads, and Soups. Kids love burgers, pancakes, pastries, and a comfortable space for both kids and parents.
28. Oath Pizza Restaurant in NYC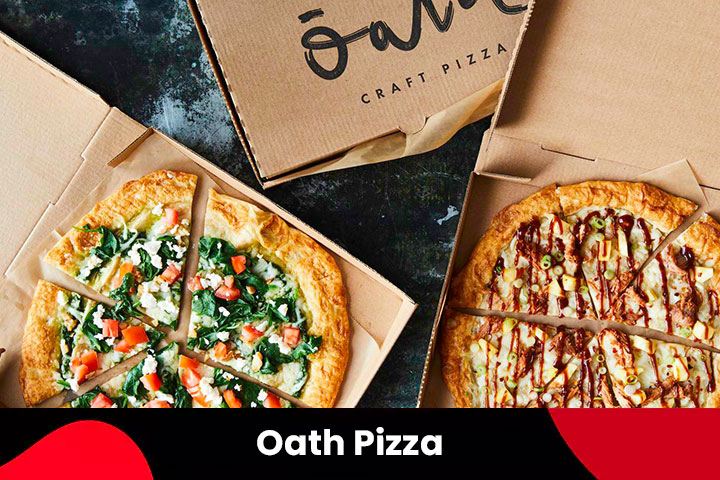 The Oath Pizza has the kid's favorite meals, Pizzas! The avocado oil thin-crust pizza flavors on top of the menu are Tuscan Sausage Pizza, Pepperoni, Cheese, Bella, and a custom pizza menu so you can create your pizza. The others are Caesar Salad, Greek Salad, Cheesy Garlic Bread Sticks, Dark chocolate Brownies, and Cookies.
29. Smac East Village Restaurant in NYC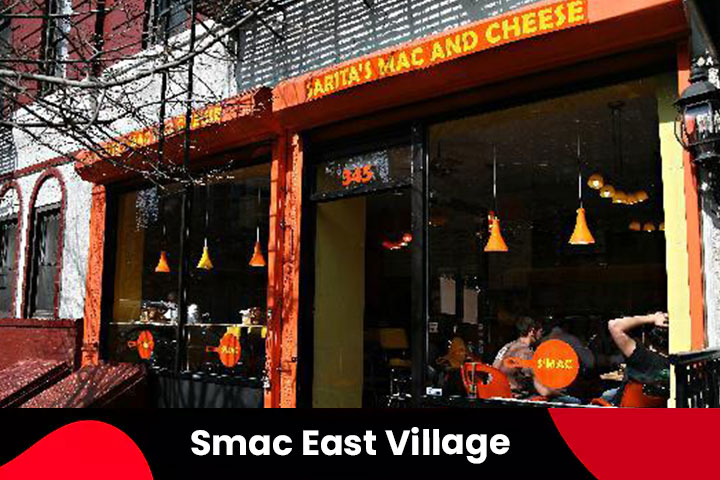 Sarita's Macaroni & Cheese, famous as Smac restaurant, is a small spot to dine in Mac n Cheese pasta, a favorite meal for kids and adults. Macaroni & Cheese is the top menu in this place, with variations of many flavors and low-carb, gluten-free food and vegetarian meals. Burgers, Buffalo Chicken, Steaks, Beer, Wine, and Cocktails. Kids love Brownies, Cookies, and beverages. Macaroni & Cheese
30. The Thirsty Koala Restaurant in NYC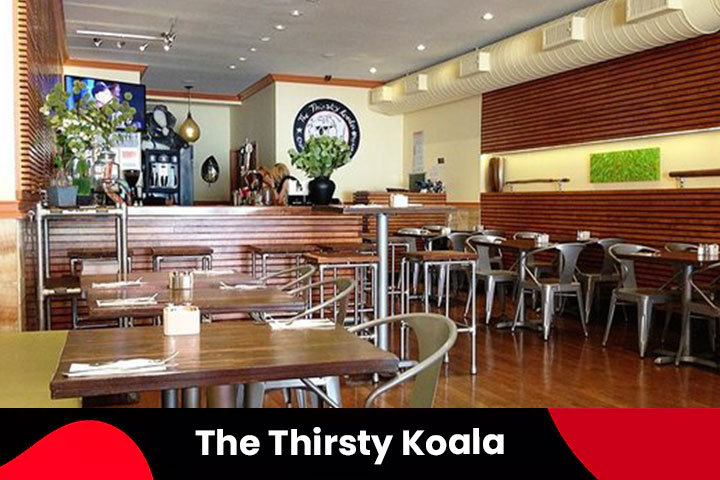 The Thirsty Koala Restaurant is an award-winning restaurant in Queens, NYC. This Restaurant's Australian Cuisine and lovely atmosphere are perfect for kids and families. The menu's main course is Tacos, Burgers, Chicken Tenders, Mac n Cheese, Chicken Wings, Clam Chowder Soup, Savories, wines, beers, and cocktails for adults.
31. Jungle Cafe in New York City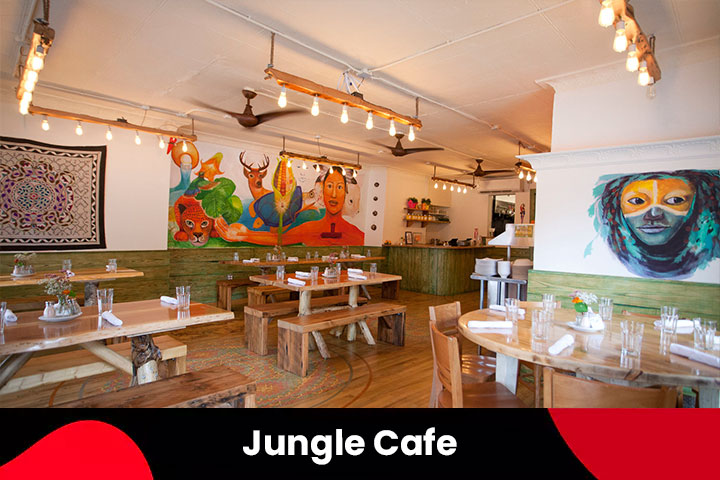 Jungle Cafe is a vegan & kosher restaurant and buffet dinners at an indoor dining hall, outdoor street space, and backyard patio. The menu flavors are Grilled Avocado, Kimchi Sandwiches, Salads, Smoothies, and Soups.
32. Buttermilk Channel Restaurant NYC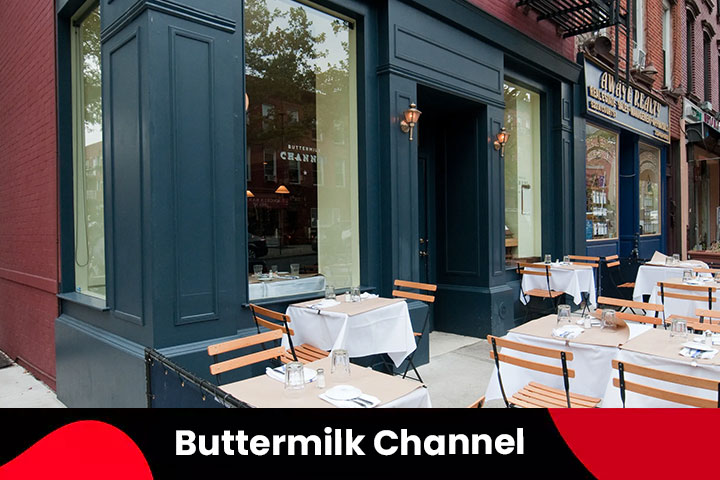 The Buttermilk Channel is the best kid's restaurant in NYC for its brunch. The American Food restaurant has an indoor dining hall and a small patio on the sidewalk. Kids'd love their favorite meals, Mushroom bean Burgers, fried chicken Buttermilk sandwiches, Cheese waffles, and Pecan Pie sundaes. The other delicious option is Mapple Bacon Toasted Almonds.
33. Osaka Japanese Restaurant NYC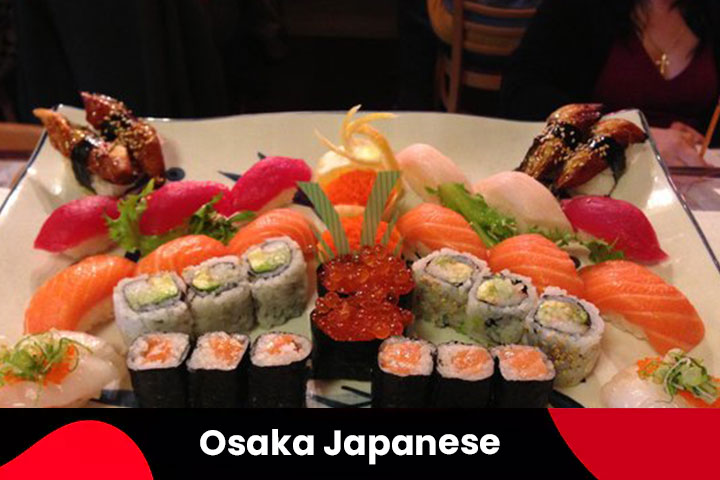 Osaka Japanese Restaurant has an outdoor patio with a comfy garden for kids and pets. The Restaurant is Japanese, and the top menu is Sushi, Chicken Teriyaki, Soups, Salads, appetizers, drinks, and desserts.
34. Xochimilco Family Restaurant NYC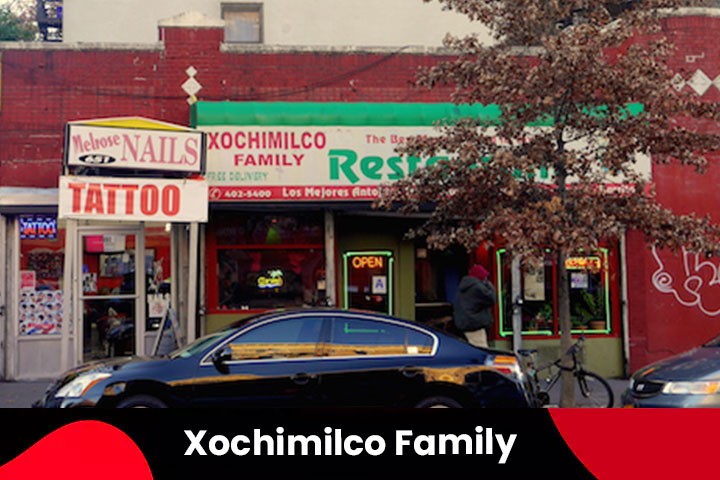 Xochimilko Family Restaurant is an ideal Mexican food spot with bright color interiors and flashing decors that are attractive for kids. They offer the best Mexican dishes, including Mexican Sandwiches, Salsa and Chips, Tacos, Nachos, Shrimp dipped in Garlic Sauce, Chocolate Mousse cakes, Milkshakes, espresso Coffee, classic Wines, and exclusive beers.
35. Risbobk Restaurant NYC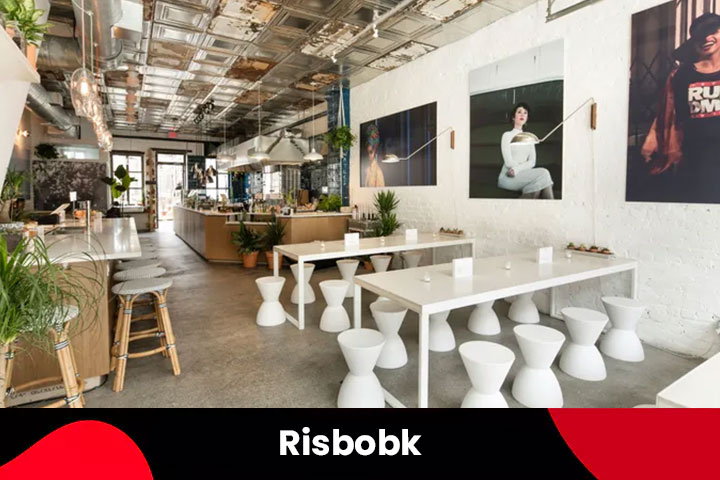 Risbobk Restaurant is a French restaurant famous for its rotisserie dinners the best kid's restaurant in NYC with lovely decor and furnishing.
The menu's main course is Roasted Duck, Fish, Lamb, Chicken, Kale Salad, Pita bread, wines, and cocktails. Kids' meals are Cheesecakes, Cookies, Ice creams, Potatoes, Grains, Coffee, and Tea.
36. The Smith Restaurant NYC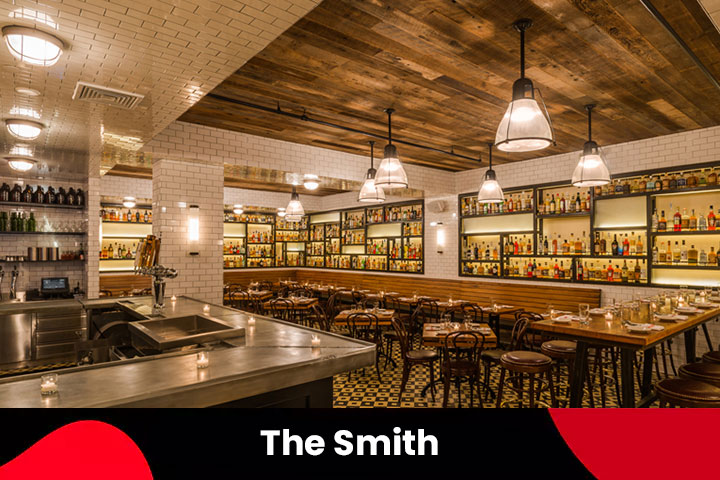 The Smith Restaurant has a casual decor and feels like a home for kids. The kid's favorite pasta, salad, steak, puddings, cakes, and apple pies menu is delicious. Wines and cocktails for adults are lovely, with delicious meals.
37. Aurora Restaurant NYC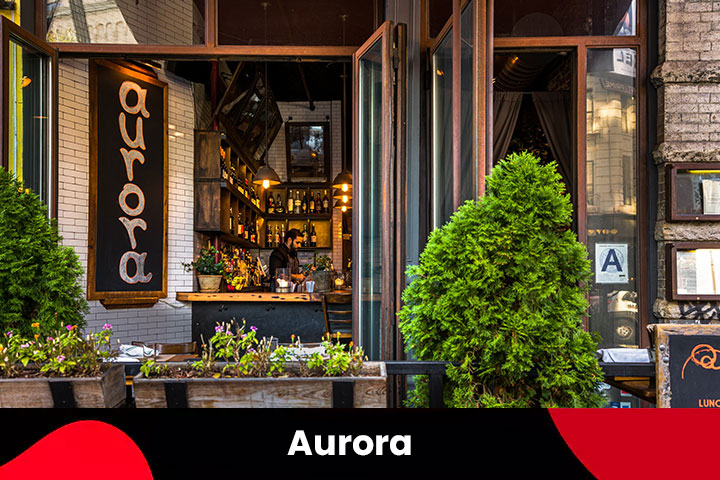 The Aurora Restaurant is an Italian restaurant with a dining hall, patio, and a lovely garden. The space is suitable for kids and family dinners.
The main menu is Strip Steaks, Pasta, Salads, spaghetti, Sandwiches, and Burgers with cocktails, sodas, and desserts.
38. Clinton Hall Restaurant NYC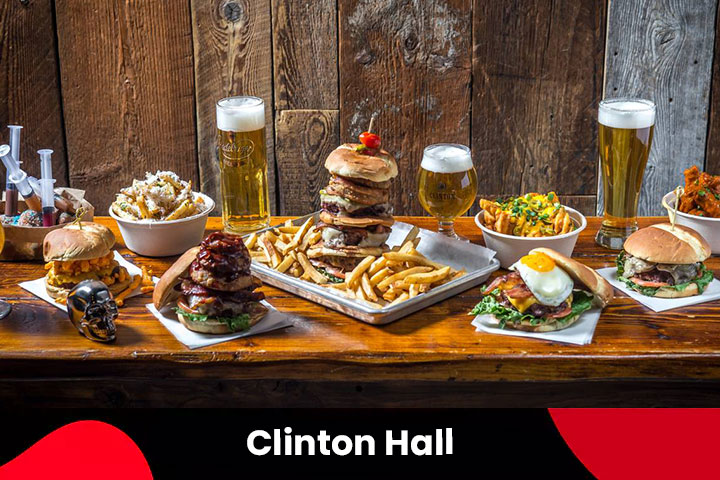 Clinton Hall Bar & Restaurant is a fun place for kids and adults. This place has a large dining hall, fun games, LED TV Screens, and outdoor dining space. Board Games and Fooze Ball are the most exciting games for kids. The top-rated menu includes burgers, waffles, salads, sandwiches, wines, beer, and drinks. The Fondue burger with cheddar cheese is great with crispy fries.
39. Adobe Blues Restaurant NYC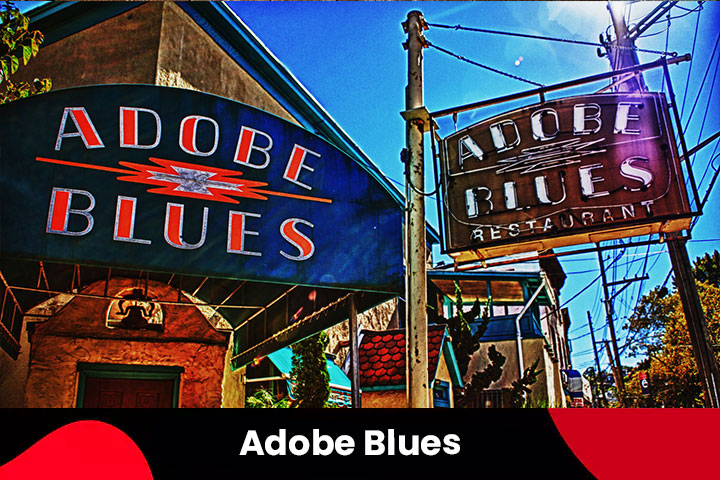 The Adobe Blues Restaurant and Bar at the Ferry stop on Staten Island. The lovely bar restaurant serves Mexican food with beers, wines, and cocktails. The melodies of Jazz and Blues perform every night with the best music bands at the Restaurant. Fun for kids, family, and friends at Adobe Blues.
40. Roberta's Pizza Restaurant NYC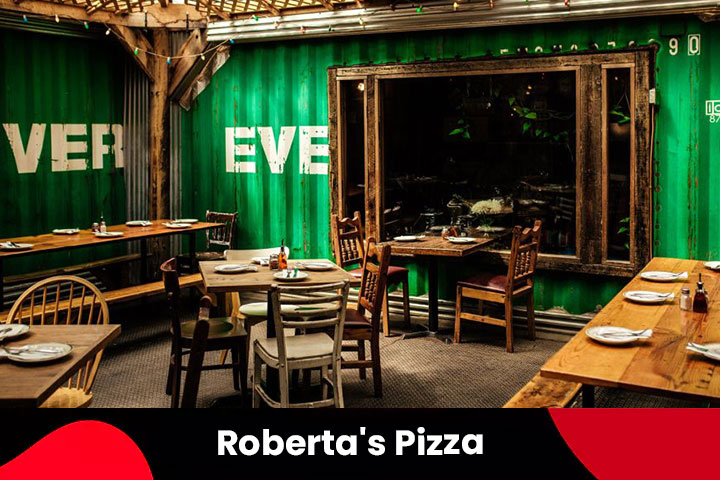 Roberta's Pizza Restaurant has an indoor dining hall and outdoor dining space. They serve woodfired pizzas, pies, pasta, salads, and drinks. You can order frozen pizzas for home, cook your pizza in your oven in your kitchen and enjoy the meal with family and kids.
41. Koneko Cat Cafe NYC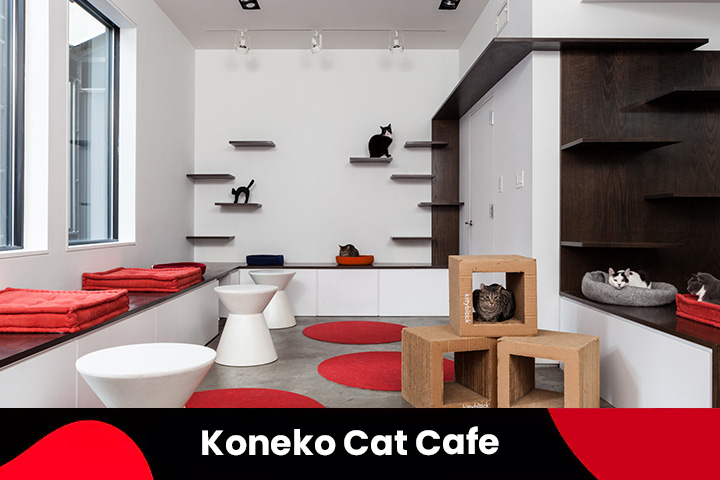 Koneko Cat Cafe is a Japanese cafe—a unique Cat Cafe with cute cats around and fascinating decor. You and your kids love food and cats. The menu includes Pastries, Waffles, Snacks, Cookies, Cakes, Marshmallows, Coffee, Tea, and drinks.
42. Hard Rock Cafe NYC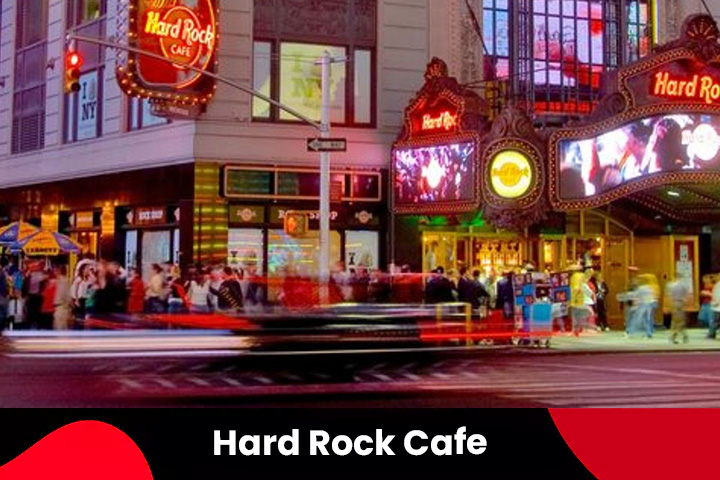 Hard Rock Cafe is in Times Square, Broadway—the most exciting spot in New York City. Guitars, music melodies, and sparkling LEDs on the walls surround the cafe. The kids get servings on the guitar shape platter and enjoy the fast rock and pop music beats, with the delicious food making you feel excited. The top menu is burgers, chicken tenders, hotdogs, pizzas, pasta, and salads with drinks.
43. Olio-E-Piu Restaurant in NYC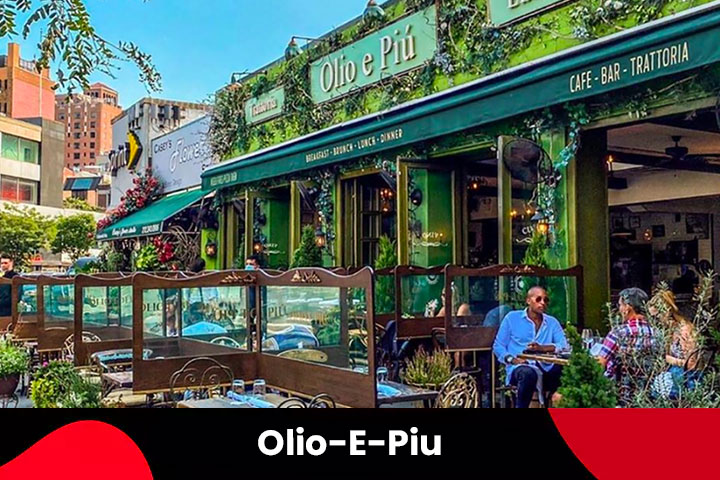 Olio E Piu Restaurant is a family retreat that serves the most delicious Italian pizzas, pasta, and drinks for breakfast, lunch, brunch, and dinner. It has an elegant classic interior in the dine-in space, and the outdoor dining area is perfect for summer vibes. It's the authentic Italian Flavor of pasta and pizzas in NYC. They offer NYC's Best Brunch with a View.
44. Tim Ho Wan in NYC

This Asian Restaurant has perfect for kids and families, and they are Dim Sum Specialists. They offer delicious Taiwanese, Chinese, and Asian cuisines. Their delicious meals are Shrimp Dumplings Steamed, Rib with Black Bean Sauce, Steamed Pork, beef balls and bean curd, vegetable dumplings steamed, and steamed fish with pineapple. Their food is delicious and has enough portions to consume, and their meals have authentic flavors and spices, perfect meals for the whole family and kids.
45. Numero Twenty Eight Pizzeria in NYC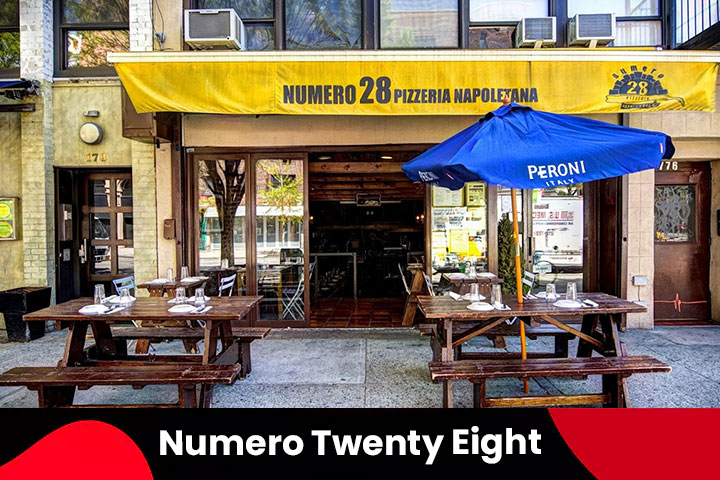 It's an Italian Pizzeria that offers delicious pizzas, pasta, salads, meatballs, gnocchi, vegan and gluten-free pizzas, and drinks. This chic Italian pizzeria has excellent decor and great settings. You will find a smooth dining atmosphere with your family and kids.
46. Tony's di Napoli Restaurant in NYC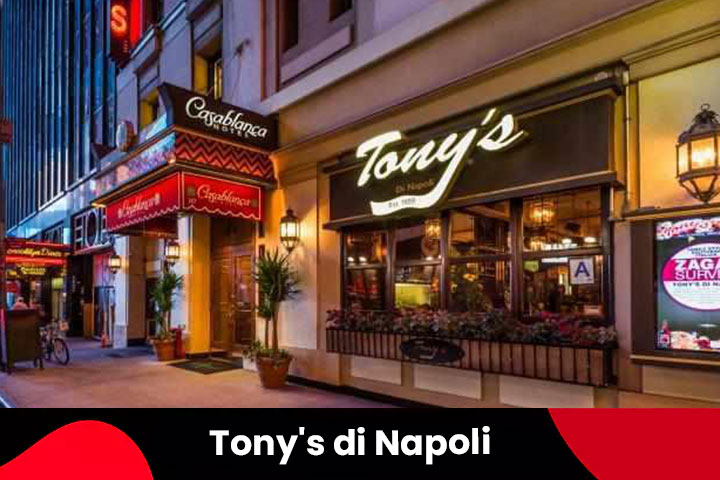 Tonys di Napoli Restaurant serves Italian and Napolian dishes. Having outclassed Italian and Neapolitan flavors in New York City is great. Their best food options are Rigatoni, Cesar Salad, Pasta, Mousse Cakes, Salmon, chicken Piccata and drinks. The restaurant has a calm ambiance; the servings are enough portions perfect for families and kids.
47. Rice to Riches Restaurant in NYC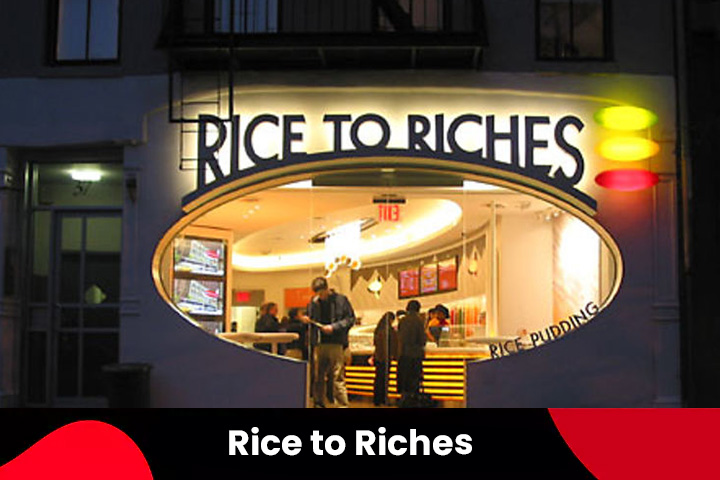 Rice to Riches Cafe has a vibrant, colorful, and glorious ambiance with fascinating interiors, cute toys, and sparkling lights like Christmas decorations. It's a perfect place for kids and families to enjoy the sugary treats and sweet delights in a lovely space. They offer several delicious flavors of rice puddings, cheesecakes, and drinks.
48. Thai Diner Restaurant in NYC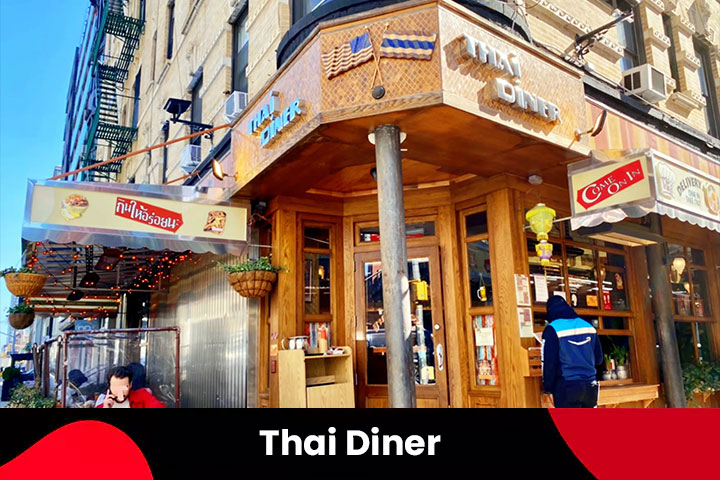 Thai Diner restaurant is perfect for sweet and spicy Thai Flavors in NYC. If you taste the Hot chili and sour dishes of Thai cuisine, it's an excellent spot. Kids love their meals, and the peaceful atmosphere suits families and kids. The most famous meals on the menu are Phat Thai Chicken, Lobster Omelets with coconut cream, Thai Babaka French Toast, Shrimp Wontons, and Tom Yum Soup. They also offer ice creams and drinks after the meals.
49. Uncle Boon Sister Restaurant in NYC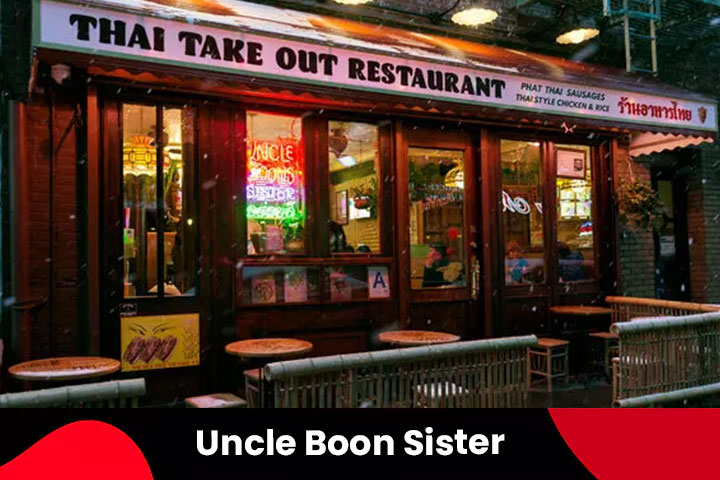 It's a small Thai restaurant that offers hot and saucy food with wine and beer. They serve hot chili, saucy, and delicious meals with enough food portions. They have a small indoor dining hall and a patio setting with simple decor and soft vibes. Their top-rated meals are Papaya Salad, Rainbow Chard, Bird Chili, Kabocha Pumpkin Cury, and Laab fried Chicken. You would love to have such a yummy taste of Thailand in NYC.
50. Lombardi's Pizza Restaurant in NYC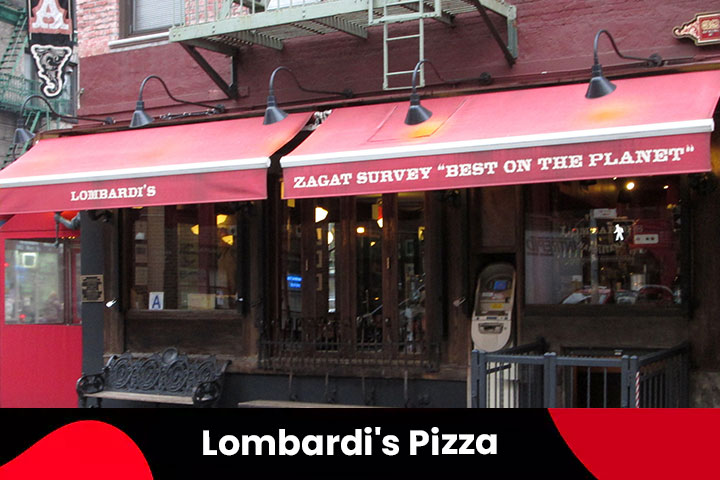 Lombardi's pizzeria offers coal-fired cooked, thin crust, delicious Neapolitan pizzas. It's almost crowded with customers and kids. People may need help with the staff at this place, but we recommend the food is excellent and affordable. It's a rush spot, but you will love the yummy pasta and pizza at this first pizza restaurant in NYC. They also offer vegetarian options, and their popular favorite flavors are Pasta, Meatball Rigatoni, Pepperoni Pizzas, and Cheesecake cones.
51. Noodle Love Restaurant in NYC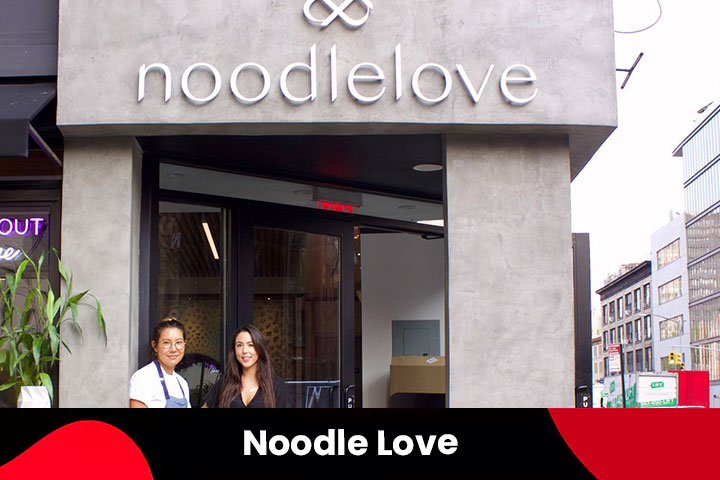 It's a Korean and Italian mix menu with several delicious flavors of noodles! It's a clean and comfortable spot, and they offer fast, hot, and fresh food, and they give you a good portion of food at such an affordable price. Here's an offer create your bowl, and you can choose from various food options; vegans and gluten-free options are also available there. So, make a yummy noodles meal of your own choice and grab some drinks to enjoy more.
Conclusion
New York City has many more fun activities for tourists, families, teens, and kids, as various amusement and exciting spots for lunch, brunch, and dinners and enjoy the delicious food in New York City. The kids-friendly cafes, restaurants, and clubs are many more, and you must visit again to enjoy all attractions of the Grand City of the United States.
The bright, colorful decors, illuminating lights, lovely music, and fun vibes in great kid-friendly restaurants & best coffee shops will drag your little ones to get in there again and again and get the real spark of the Big Apple.