The autumn season lasts from September to November. The fall sensations begin, and you have remarkable things to consider in New York City in October. The warm temperature decreases, and the relaxed atmosphere with lovely yellow and orange trees gives the perfect site scenes for exploring NYC. The city has no crowds on the streets and spooky Halloween vibes roaming around New York City in October.
Planning a trip to New York in the fall is the most favorable time for tourists. The hotel and guest house prices are average, and the city is bursting with fascinating seasonal attractions, events and festivals, and parties in NYC.
The most fascinating and scary thing is that the Halloween Holiday on October 31st brings significant events and grand celebrations to New York City. Tourists and visitors love the fall season attractions, and it has surprising things to do in New York for first-timers.
Weather in October Fall Season in New York City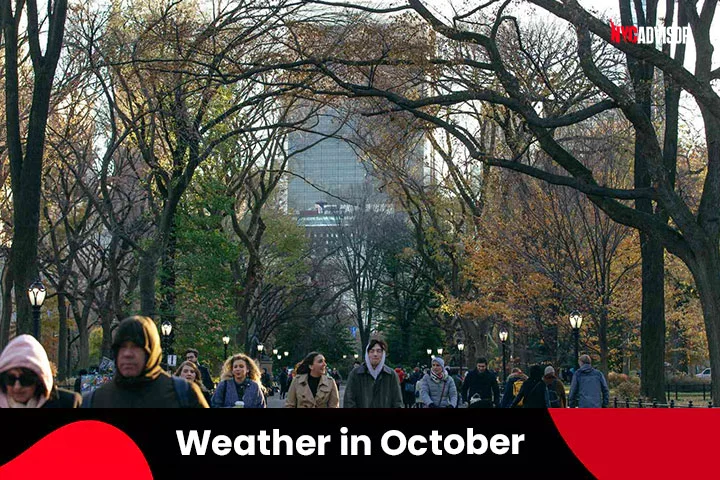 The weather in October, the Fall season in New York City, is better than in August. It's mid-Autumn, and the temperature cools at 64F and 18C in the day and 50F and 10C at night on average. The atmosphere is cozy and relaxing, so you can walk outside and explore the city in the daytime or at night. It's partly sunny and cloudy, and some rain in the fall season in NYC in October. You will find lovely things to do in New York in September and October to enjoy the fall season around the city.
1. Movie Nights are Back! In the Fall, New York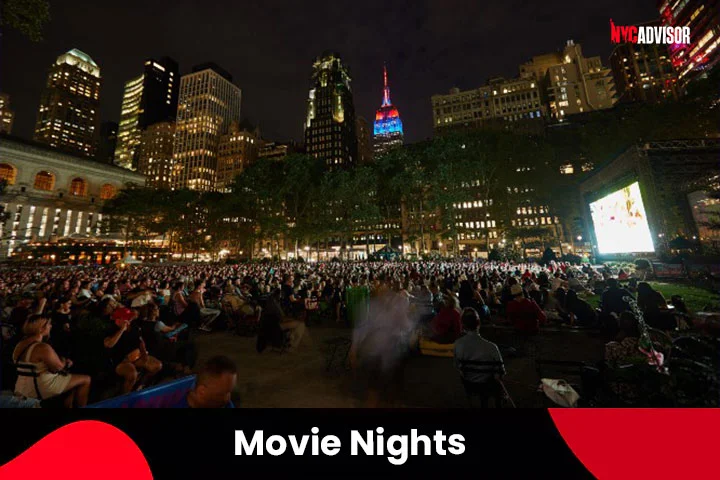 Are you looking for what to do in New York in October? Enjoy Free Movie Nights at Hudson Yards during the Fall Season in NYC. You will get the fabulous outdoor cinema at twenty-eight acres and the free movie nights in October at the Public Square and Gardens, the Hudson Yards. Grab a large popcorn pack, snack bites, and drinks, and get together with your friends for a fun screening to watch the fabulous movies on the thirty-foot wide screen of this gorgeous open-air cinema. Guests will stay and relax under the dark sky and starlight on comfortable loungers and enjoy unforgettable entertainment with incredible movies. The movie nights are free for the public and accessible to everyone, so the seats will be available on a first-come, first-served basis, and will arrive earliest to grab the seats to avoid inconvenience. It's one of the fascinating things to do in NYC at night.
2. Bronx Night Market in October, New York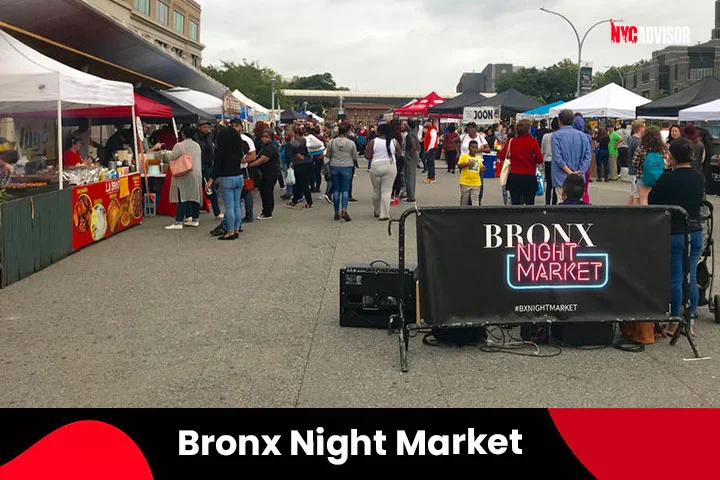 Bronx Night Market is one of the best things to do in New York in October. Visit the Fordham Plaza and enjoy the fifty-plus vendor's delicious cuisines, snack bites, desserts, coffee, and drinks. Enjoy the Insta-worthy event in the Bronx during the fall season. This remarkable event features over twenty international dishes, delicious meals and savories, spicy, chilly, hot snacks, and sweet treats. The Bronx Night Market celebrates the culture and its diverse cuisines, portraying the dynamic society and supporting the mix of social and cultural food habits and flavorsome meals. However, this event encourages the locals and visitors to explore the multicultural effects of food and flavors and explore this borough of NYC.
New York City's autumn comes with several events and festivals. Food festivals are the most visited events in the fall season. The Night Market is a fabulous way to help small and local businesses and provide fun and entertainment for visitors. You can find flavors of the season displayed on their Instagram pages to search for your favorite food like Mac and Cheese, Cheesecakes, fried chicken, fried burritos, pizza slices, pasta, cocktails, sandwiches, burgers, bagels, cappuccino coffee, and more. Before planning a visit to the market, you can check the best vendors' Instagram profiles for food availability at the market.
3. Enjoy the New York's Ice-Skating Rinks in October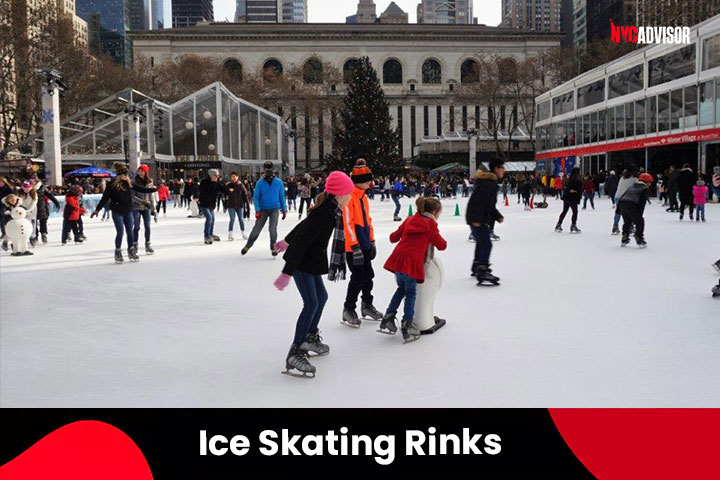 The New York Ice-skating rinks are usually full of chills and thrills in the winter holiday season, but surprisingly, you may enjoy ice skating in October! It's one of the fantastic fall activities in NYC. The most fabulous and renowned ice-skating rinks open in October and early November. The wonders of NYC continue from the fall season till the chilling winter.
4. Bryant Park Ice-Skating Rink in October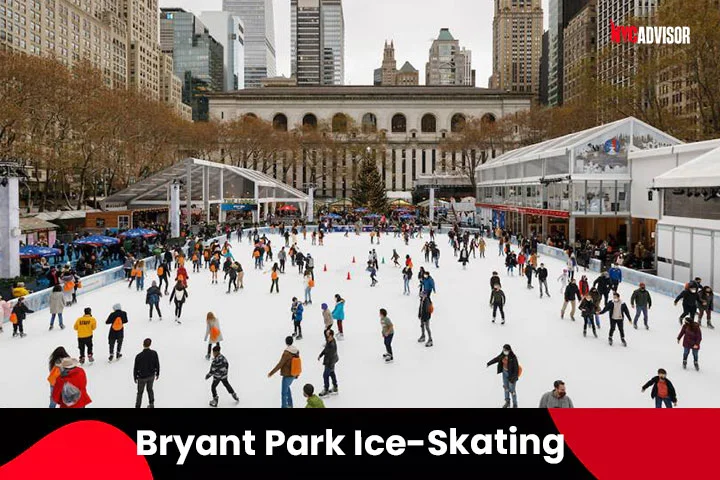 Bryant Park ice-skating rink is at the Winter Village from the Bank of America and opens in the fall season from the last of October in NYC. This ice-skating rink is free for everyone and fun for the kids and family, but you may need to rent a pair of skates if you don't have one! It's one of the fantastic things to do in December.
5. Abe Stark Ice-Skating Rink in October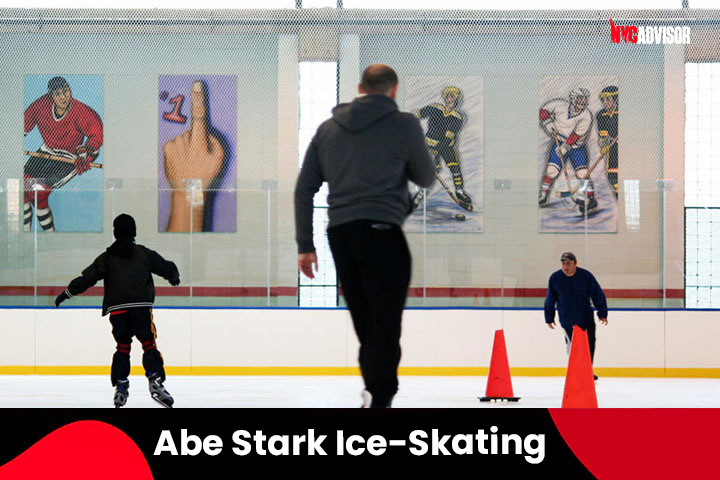 Are you visiting New York in October? You must see the Abe Stark ice-skating rink in Coney Island, Brooklyn. It runs from October till March on weekends and holidays. It's not free and has some fees for entry and skate rental charges. It's one of the most exciting things to do in November.
6. Enjoy the Most Exciting 26 Best Broadway Shows in October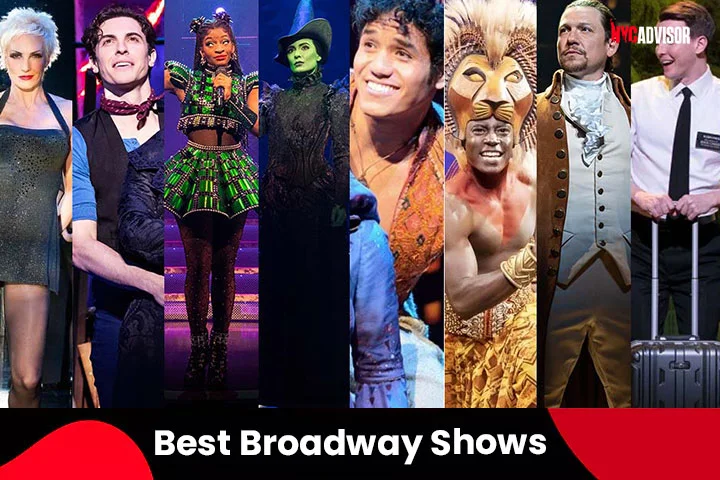 Broadway is one of the best places to visit in New York in October. Visit the most fabulous musicals and drama shows on Broadway and enjoy the live entertainment, fun, and amusement with friends and family. Here are the twenty-six best Broadway shows available in October, making it one of the fun places to go in NYC with friends.
The Hamilton-Historical & Musical Show,
The Wicked-Musical Show,
The Lion King-Musical Show,
Moulin Rouge-Musical Show,
Chicago-Musical Show,
The Book of Mormon-Comedy Musical Show,
Hades town-Greek Mythological Musical Show,
Aladdin-Musical Fantasy Show,
Six-Family Musical Show,
MJ The Musical-Story of Famous Pop Star Micheal Jackson
Harry Potter and the Cursed Child-Drama from the Original Story by J.K Rowling
Funny Girl-Drama
Kimberly Akimbo-Musical Drama
A Beautiful Noise-Musical Show
Little Shop of Horrors-Musical Show
The Play That Goes Wrong-Comedy Musical Show
Some Like It Hot-Comedy Musical Show
Gazillion Bubble Show-Kid-Friendly Show
& Juliet-Romantic Musical Show
Sweeney Todd-Musical Thriller Show
Shucked-Musical Comedy
Camelot-Historical Drama
Life of Pi-Drama
New York New York-Musical Show
Peter Pan Goes Wrong-Comedy Play
Back to the Future-Musical Show.
7. Enjoy Open Streets Columbus Avenue in New York in October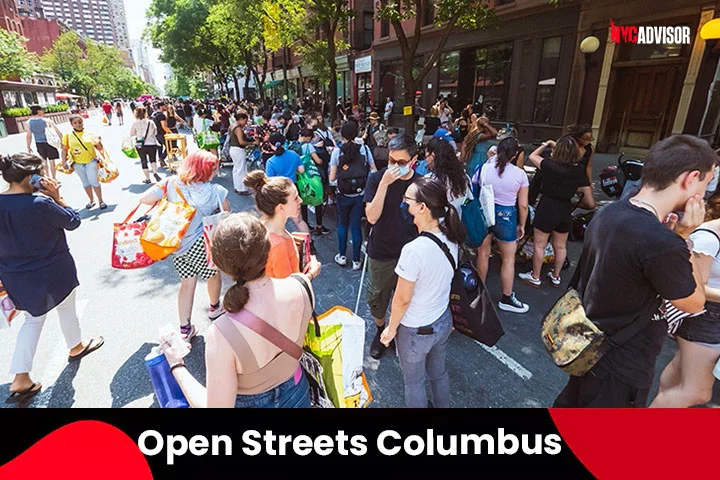 Open Streets is the most impressive celebration of the traffic-free environment and the great things to do in New York in October. Locals and visitors can enjoy shopping, outdoor dining-in, grab a coffee, ice cream, or a cocktail, and relax on a table and chairs on the sidewalks. Kids can participate in games, enjoy music, dance, and free fun and entertainment, walking, running, and playing on the Open streets of Columbus Avenue, New York.
8. Free Event Curtain Up Broadway Festival in New York City October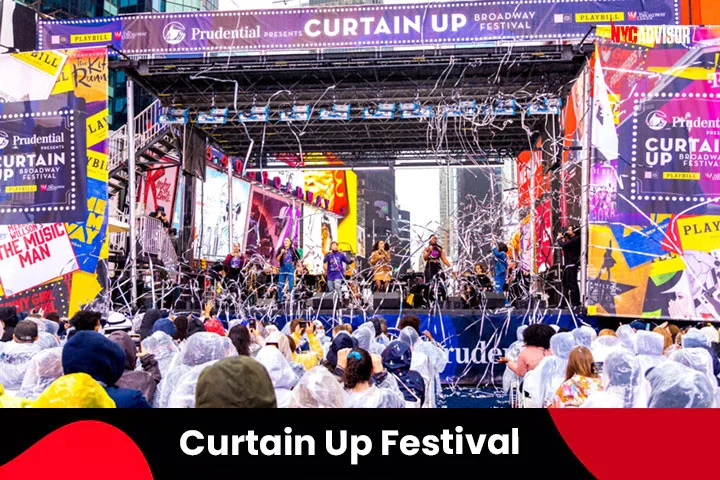 Curtain Up Broadway Festival is like various free events and great things to do in October in New York. It is a glorious event for locals and visitors to visit the popular Broadway theater for free. You can get a chance to enjoy the Star-stud event without any tickets, the Broadway block party, music, dance, and great performances. You can watch famous Broadway shows like Wicked, Chicago, and The Little Shop of Horror for free at this event. This outdoor event continues for three days in Times Square for Broadway fans and visitors. The festival runs from 30 September to 2 October.
9. Enjoy the Brooklyn Americana Music Festival in New York, October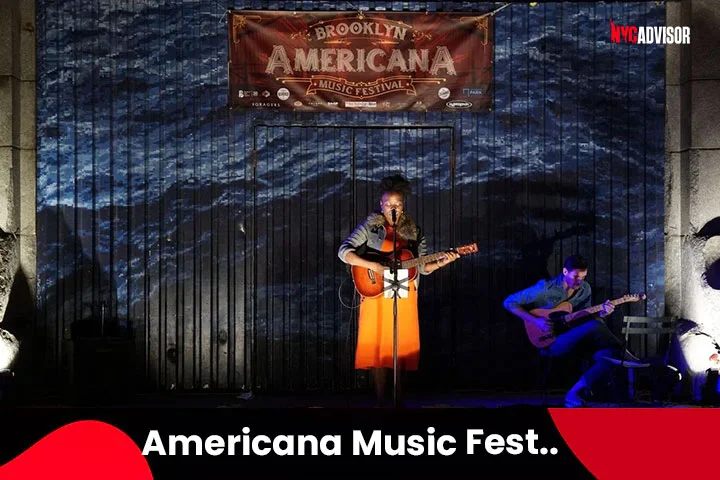 The Brooklyn Americana Music Festival is held for the Eighth time in NYC for free, and it's one of the great fun things to do in NYC in October. Almost Forty popular music bands and vocalists perform live at the concert, from Jazz, folk music, and country blues. This music festival runs from June till 1 October. Locals and visitors can access this free music festival from five different locations to enjoy the fun, thrills, and chills of musical energy. The locations are Dumbo Archway, Dumbo Jay Street Bar, Jalopy Theater, Suny's Bar, Superfine at Dumbo, and the Brooklyn Bridge Park.
10. The Best New York Trips in October, Visit Governors Island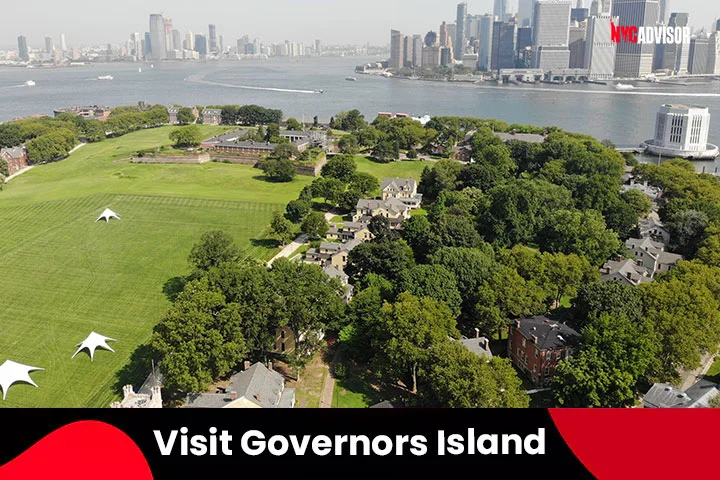 One of the most fun things to do in New York City in October is visit Governors Island. It has a remarkable history of war, revolution, and army. This Island was previously a military post with U.S. Army barracks and coast guards for the Civil War more than two hundred years ago.
Now, it's declared a national monument for historic places in the U.S. It has abandoned army barracks, old monuments, and several attractions for picnic and holiday events. Various fun attractions on Governors Island are the urban farm on Governor's Island, cafes and restaurants like Taco Vista, Little Eva's, and Guitano Restaurant, Camping and Glamping sites on Governors Island, art galleries, and seasonal events for the public.
11. The Fabulous New York Film Festival in October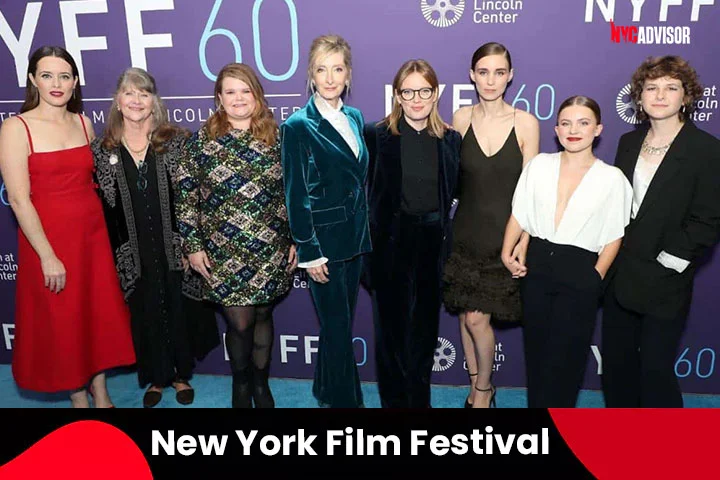 One of the most fabulous things to do in October in NYC is the famous Film festival in Lincoln Center. It's the annual event to present American cinema on a wide screen for the most fantastic movie screening. This film festival starts in September and continues till October.
The tickets are available on the official website, and the film festival is held at six venues in NYC;
Alice Tully Hall in Lincoln Center on Broadway, Times Square, Manhattan.
Alamo Drafthouse Cinema on Staten Island.
Brooklyn Music Academy, Brooklyn.
The Bronx Museum of Arts, Bronx.
Museum of Moving Images, Queens.
Maysles Documentary Center, Harlem.
12. Most Fantastic Fall Weekend Getaway from NYC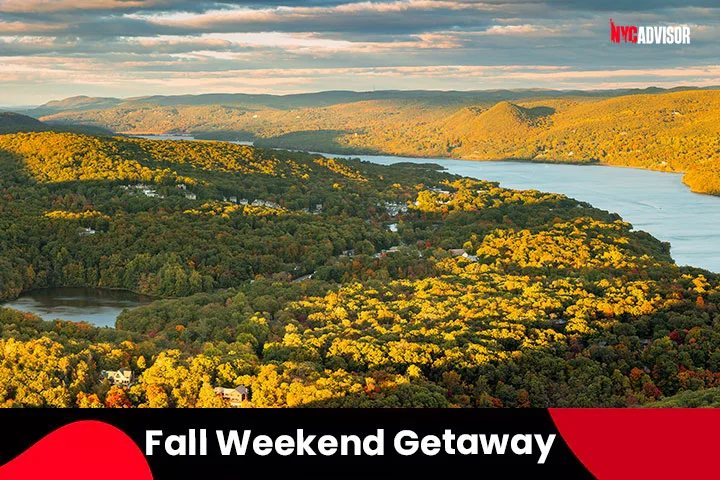 New York looks fabulous in all seasons, whether summer, winter, spring, or autumn. However, New York weather in October is fantastic, and most people like to get away from the city on fall weekends, escaping the hustle and bustle and noisy life to a calm, smooth, and relaxing place where they can spend some time in the countryside or villages near nature. If you're looking for things to do in NYC this summer, consider exploring the serene outskirts and enjoying the pleasant October weather. Fall is the fabulous season when city-dwellers often move for getaways, and several spots are at a short distance from NYC where you can spend peaceful time and enjoy fall foliage in this season. The most popular getaway destinations at the short drive from NYC where you can find the best affordable accommodations in New York.
Coopers Town in New York, Berkshires in Massachusetts, North Fork in New York, Newport in Rhode Island, Saratoga Springs in New York, Bridge Hampton in New York, Warwick in New York, Lake Placid in New York, Stone Ridge in New York, Lake George in New York, Watkins Glen in New York, and Niagra Falls in New York.
13. Columbus Day and the Columbus Day Parade in New York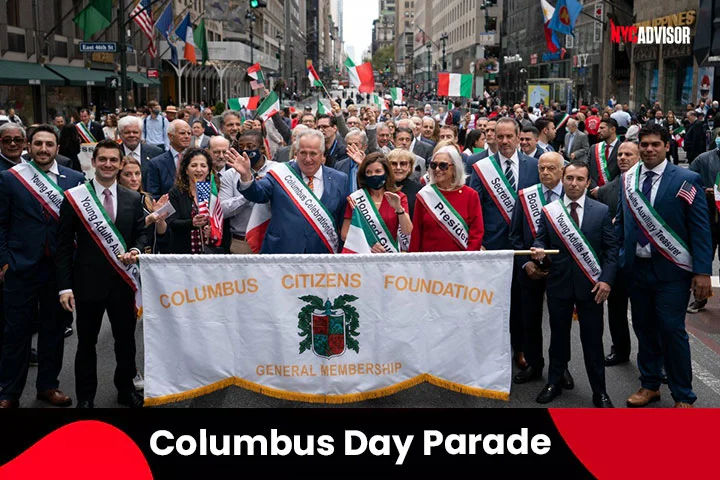 Columbus Day is the Italian American Heritage in the U.S.A. It's the day Christopher Columbus arrived in America on 12 October, and Columbus Day is celebrated on the second Monday of October every year. The Columbus Day Parade is celebrated on Fifth Avenue to Seventy-ninth Street with colorful floats, musical bands, and music. The parade is accessible more clearly from sixty-seventh Street and around Central Park in October.
14. Celebrate Hispanic Heritage Month in October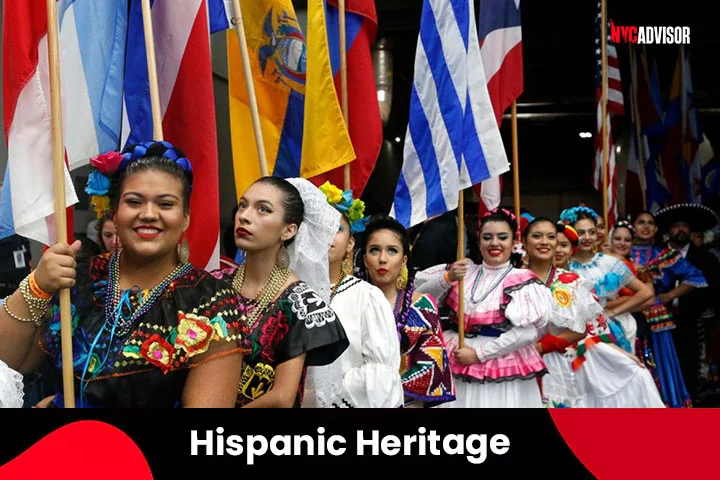 The Hispanic Heritage Month Festivities are celebrated from September to October. They celebrate Hispanic history, culture, heritage, community contributions to America, and the memorial for the Hispanic Ancestors from Spain, Mexico, South America, the Caribbean, and Central America.
15. BRIC JazzFest Music Festival New York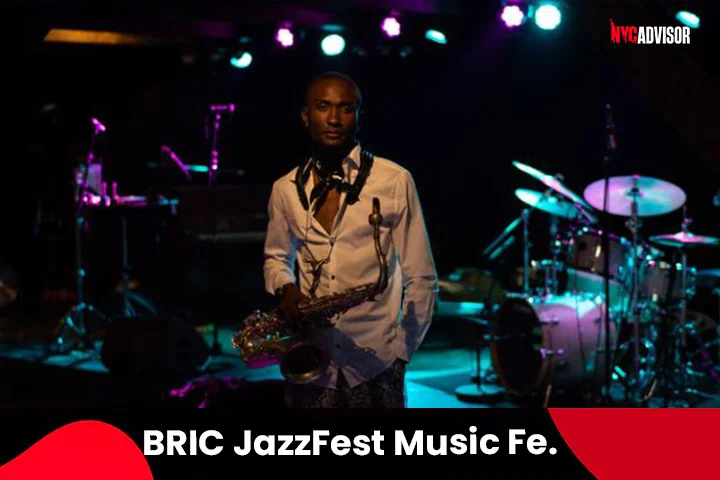 The Bric JazzFest is the famous Jazz Music Festival that runs for three days in October, one of the best fall things to do in N.Y.C. The festival is held in Brooklyn with legendary jazz artists and great stars. Enjoy the classy melodies of Jazz with hip-hop and rock-style genres. Join the festival in Bric House Brooklyn.
16. The Annual Pumpkin Flotilla at Central Park in NY in October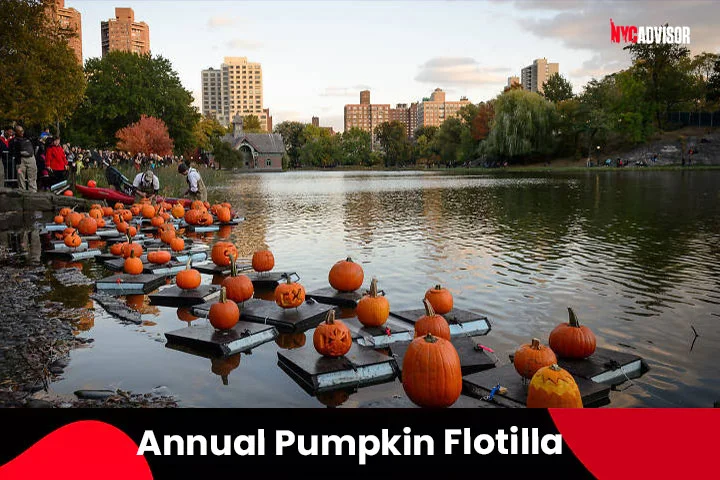 The Annual Pumpkin Flotilla is celebrated at Central Park on the day before the Halloween Festival on 31 October in N.Y.C. The kids have great fun with pumpkin carving, scary stories, spooky costumes, and the most fun Halloween Parade. Everyone can join this spooky, fun event with scary makeup, horror masks, and dark Halloween costumes for fun. This event is held at Harlem Meer in Central Park in October, and it's free for visitors and the public.
17. Willy Wall Yacht Club New York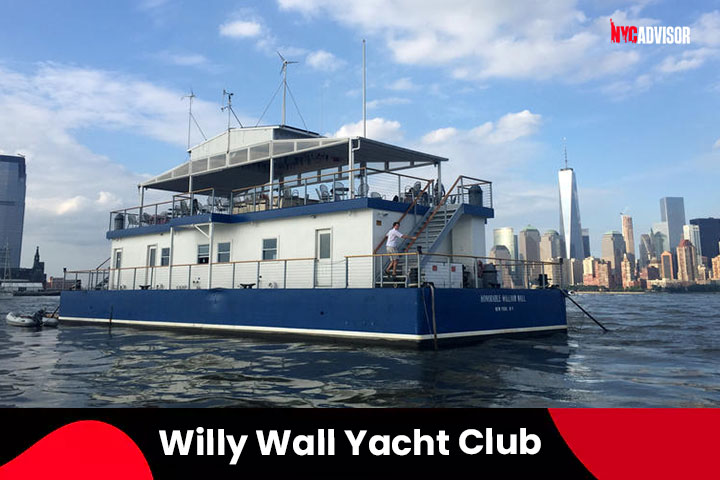 The best things to do in NYC in October are sightseeing and boat tours at the great William Wall Yacht Club, known as Willy Wall Club, Manhattan's renowned club for boating. The William Wall Yacht Club has a floating clubhouse in New York Harbor, on Ellis Island. Enjoy the fascinating sightseeing and yacht rides from May to October for iconic views of the Manhattan skyline, Lady Liberty Statue, and Ellis Island.
The Yacht club has a bar to serve cocktails, beers, and wines but no food and meals. However, you can bring your food to the clubhouse bar and enjoy wines and drinks while getting fascinating views of the city's skyline in New York Harbor.
18. The Fall Foliage in New York City in October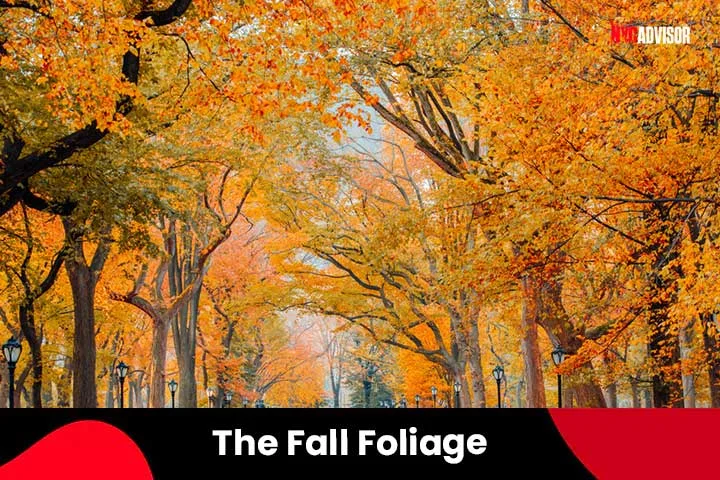 In October, you can watch the lovely fall foliage on the sidewalks and public parks in NYC. The fascinating scene of foliage and lovely yellow and orange leaves around the city in the fall season looks stunning. You can take some snapshots or make a natural landscape painting for these beautiful scenes in New York City. Tourists can visit several fascinating places in New York to enjoy the striking scenes of the fall foliage in October.
19. Apple Farms near New York City in October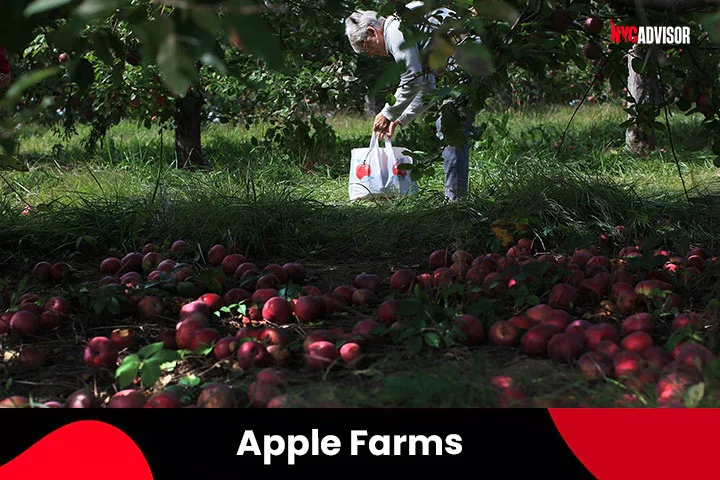 The month of October is blessed with Apples and Pumpkins in NYC. You can pick fresh Apples to make delicious and sweet apple pies, apple custard, homemade apple jam, and Pumpkins to make Jack O' Lanterns for the Halloween event in October. There're various Orchards and farms near NYC to pick fresh fruits and veggies and enjoy the relaxed atmosphere of farms and nature. It's one of the most awe-inspiring activities in New York in the autumn season.
The best apples and pumpkins farms to visit in October near New York City are; Twin Star Orchards in New Paltz near NYC, Stone Ridge Orchards in Stone Ridge, New York, Apple Dave's Orchards in Warwick, New York, Hanks Pumpkin Town in Hamptons, Water Mill, NY, Terhune Orchards in Princeton, New Jersey, Battle View Orchards in Freehold, New Jersey, Weaver's Orchards in Morgantown, Pennsylvania, Wilkens Fruit, and Fir Farm in Yorktown Heights, NY, and Lawrence Farms Orchards in Newburgh, NY.
20. Queens County Farm Museum in NYC in October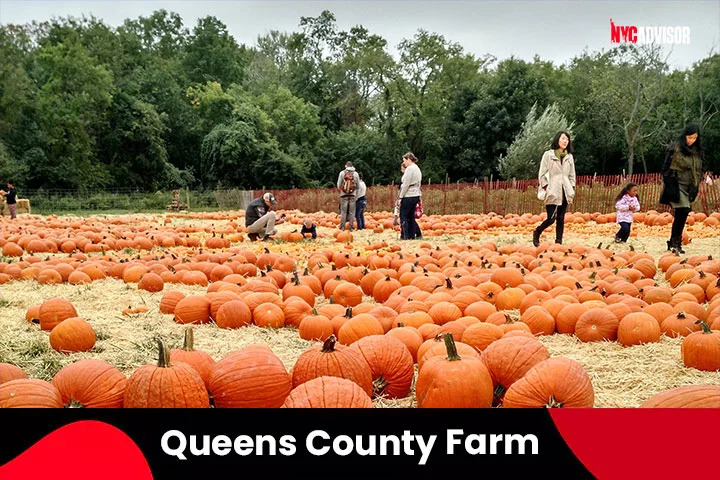 The most fabulous and fascinating scene is the three acres corn-maze in Queens County Farm Museum in Queens, NYC. The beautiful corn maze puzzle is rare and stunning to visit in the fall, and October, to check in the fresh fruits, veggies, and corn maze in the lovely Queens farm museum, NYC. It's one of the most fantastic tourist attractions in New York in October, the Fall season.
21. Harry Potter Forbidden Forest in New York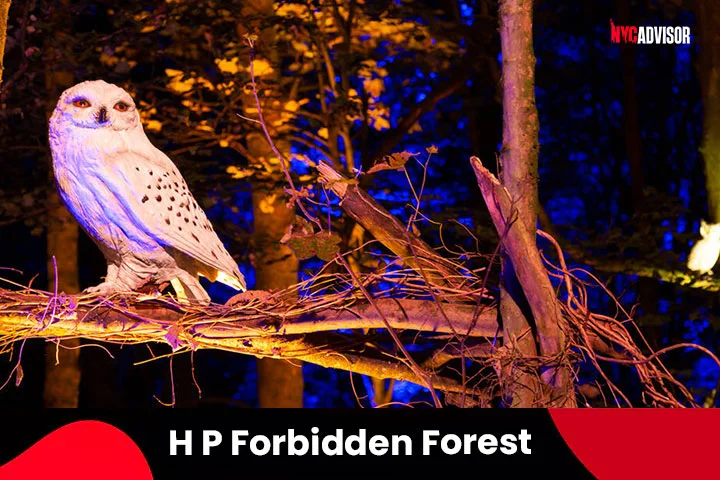 Harry Potter is the most popular fantasy series of wizards. Explore this fall season; The Harry Potter stories inspired themed Harry Potter Forbidden Forest Experience in Westchester, NY, which is an incredibly magical experience to see through the world of magic and wizards' fantasies by walking into a deep and dark woodland to explore the magical phantoms, beasts, and wizardry adventures into this awe-inspiring forest experience. Feel the spooky vibes while walking into the dark forest and enjoy the thrilling experience this October in New York.
22. Jack O' Lantern Blaze in October, New York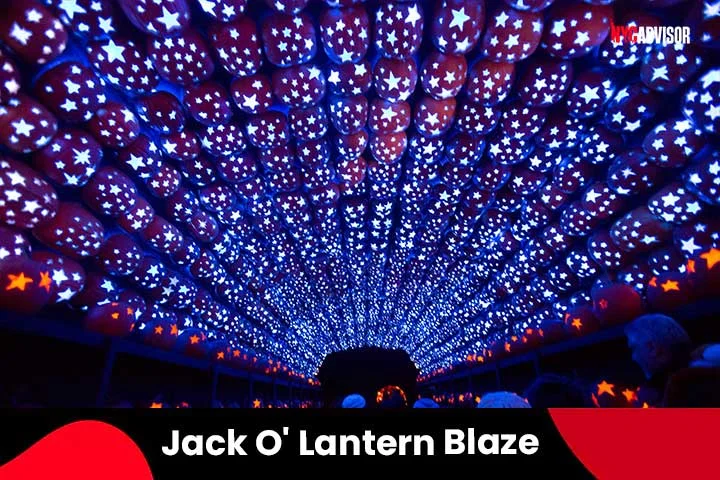 Jack O' Lantern Blaze is the most fascinating and thrilling event in October in New York. The colossal festival of illuminating Pumpkins carved Lanterns massively in Hudson Valley. More than 7000 carved Pumpkin Lanterns enlightened with several sculpture designs like dinosaurs, skeletons, creepy jokers, and ghosts. This grand event celebrates the Halloween festival in October with a fantastic creepy atmosphere.
23. Village Halloween Parade in October, New York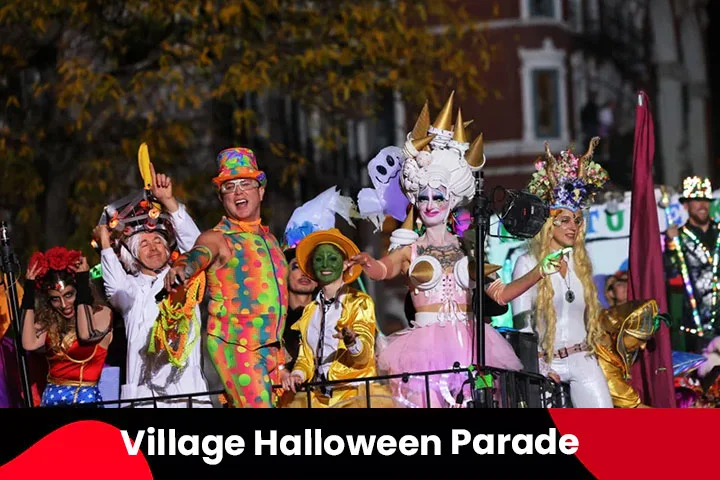 Let's prepare to dress up in the spookiest costume and march in the Village Halloween Parade in Greenwich Village, NYC, on October 31st. The Halloween Parade is busting, with over 6000 participants in scary and horror characters' costumes and makeup, with scary masks, banners, floats, spooky music, and dance moves along the march. Join the free public event in October to enjoy Halloween night's horrors and get spooky clicks for your Instagram and Social media pages. It's one of the most spectacular events and the awe-inspiring things to do in NYC in October.
24. Great Comic Con in October, New York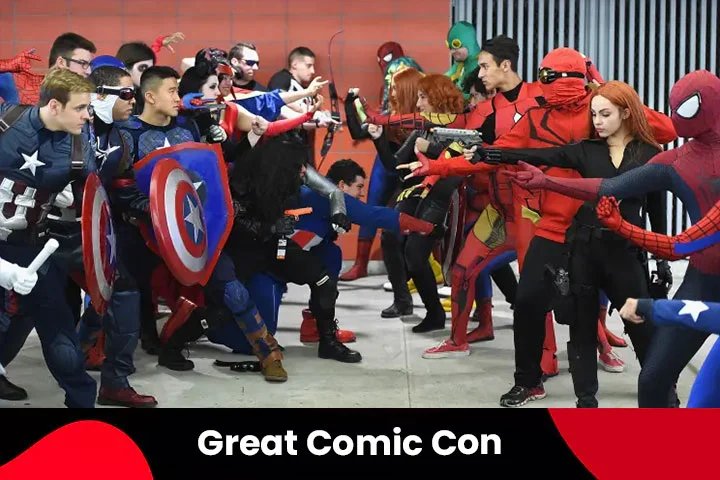 The Great event of Comic-Con occurs in October at Javits Center, New York. This unique event presents the most popular comic characters in costumes to play around with and displays fascinating novels, game plays, cosplay, and toys. It's the grand fan convention to honor Western comics and their captivating characters in New York.
25. Oktoberfest Celebrations in October, New York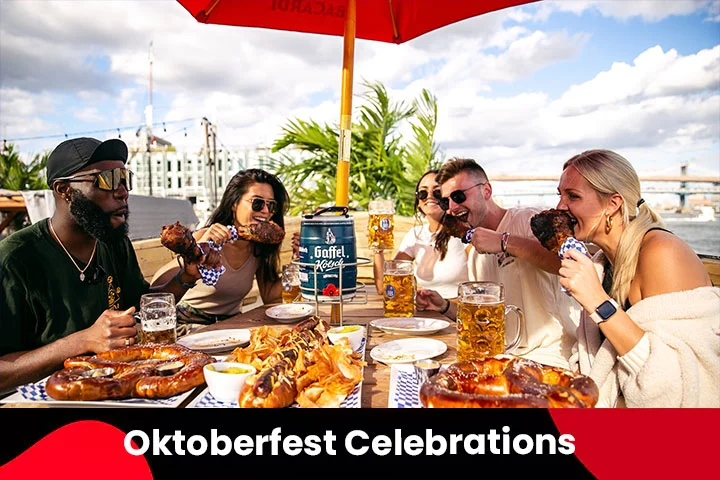 Oktoberfest is a German festival to celebrate the arrival of the fall season. You can celebrate the festival with your buddies at your favorite spot with a big glass of beer and food and have fun with the day drinking, music, and dancing to enjoy the event in NYC. Oktoberfest celebrations occur in New York City are;
Watermark Bar at Pier, NYC
Cruise line to Beer Mountain, fest on the cruise
Clinton Hall, NYC
Long Island Craft Beer Fest, NYC
Torch and Crown Brewery, NYC
Oktoberfest-themed cruises, Manhattan by Sail, NYC
Oktoberfest Parties at Black Forest, Brooklyn
Oktoberfest celebrations at Radegast Hall and Biergarten, NYC
Celebrate the Oktoberfest at the Zum Schneider Festival, NYC
Oktoberfest celebrations at the Central Park, NYC
26. Visit the Spooky Spots in New York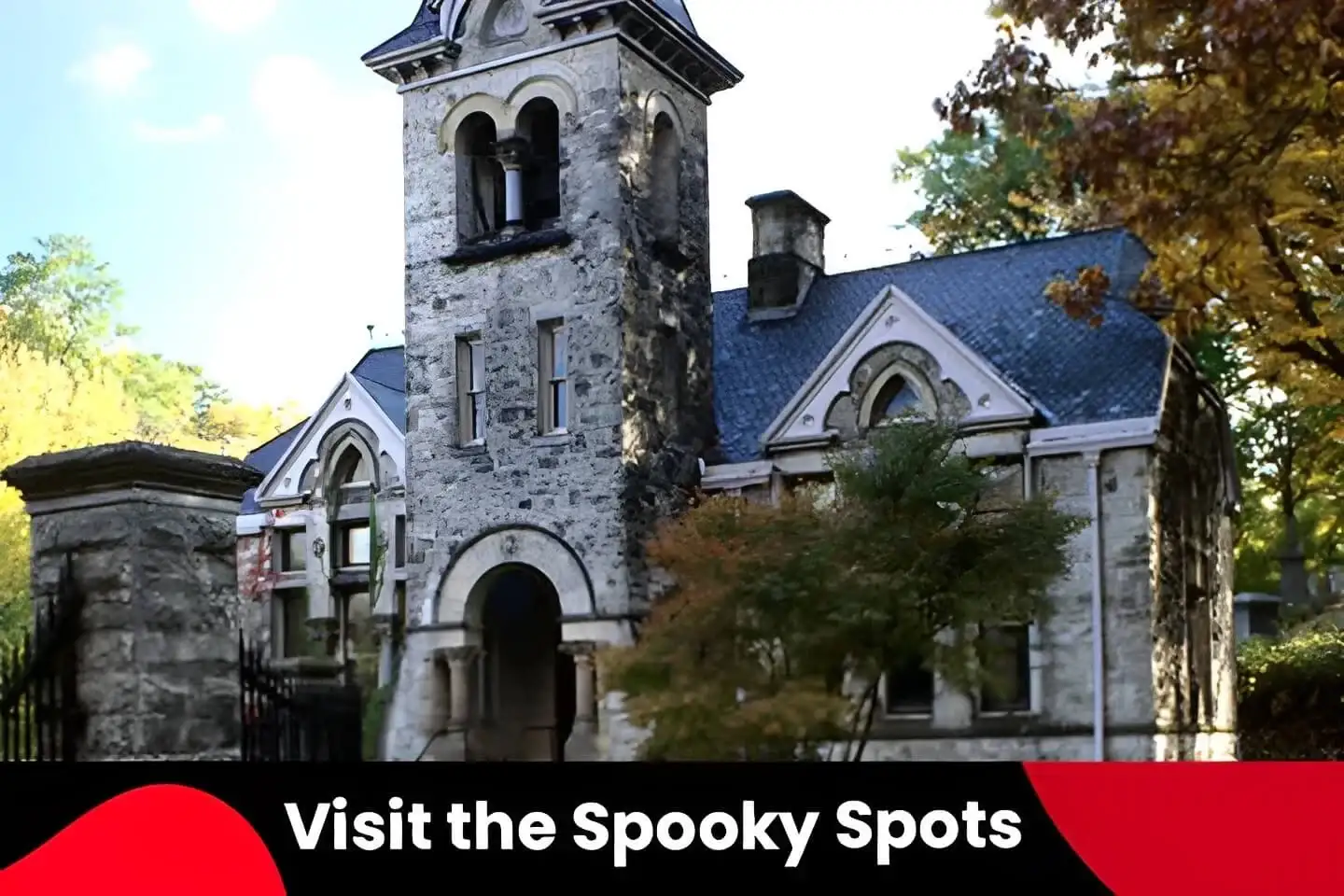 Visit NYC's spooky and haunted spots to celebrate Halloween celebrations and explore the popular haunted locations with your buddies in scary costumes and terrifying masks. Check out a few locations;
Woodlawn Cemetery, Bronx
Washington Square Park, Greenwich Village
House of Death, Greenwich Village
Machpelah Cemetery, Queens
Mark's Church, The Bowery
Morris-Jumel Mansion, Washington Heights, NYC
Kings Park Psychiatric Center, Long Island
New Amsterdam Theater, Midtown Manhattan
White Horse Tavern, West Village, NYC
Dakota, Central West, NYC
Hotel Chelsea, NYC
Blood Manor, Tribeca, NYC
27. Visit the Scary Merchant's House Museum in New York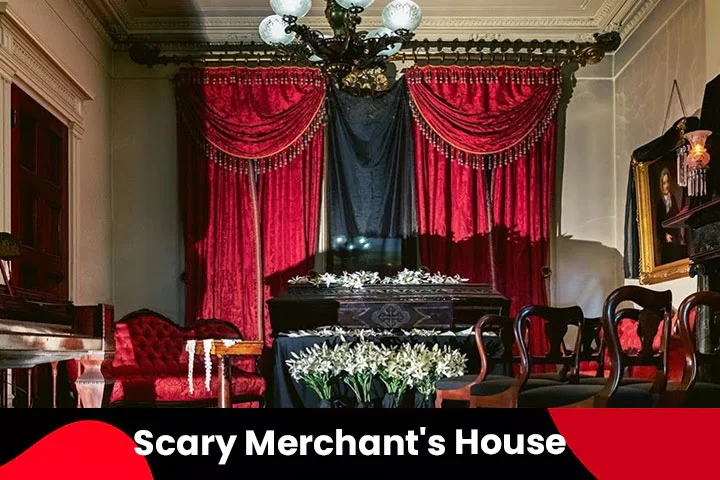 The Merchant House Museum is the most haunted and scary house in NYC. It belonged to a wealthy merchant and his family, but after he died, his youngest daughter Gertrude Tredwell used to live at the house, and she died at the age of 93, unmarried and without bearing a child. She used to live with her servants and didn't want to change her lifestyle to a modern way, living with burning candles and the old ways. After she died, the Govt. took over the house and turned it into a historic site. All the furniture and settings are the same as there. But the older woman Gertrude Tredwell's ghost appeared, and the hauntings began. The paranormal activities of the museum are renowned as the haunted Merchant's House in NYC.
Tourists can visit the spooky house and museum to watch over the historic site and enjoy some scary experiences in October.
28. Tompkins Square Halloween Dog Parade in New York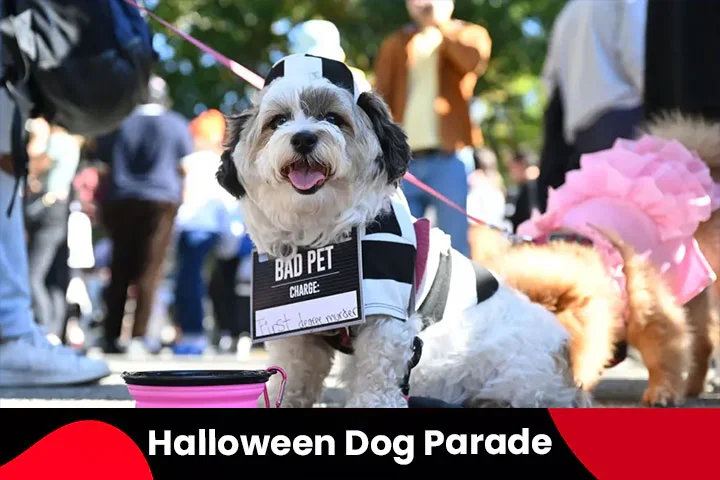 Celebrate the Spooky Halloween Holiday with cute furry pooches and pups dressed in scary costumes and masks with little costumed dogs, dancing at the Dog Parade at Tompkins Square in New York City. It is the perfect unique way to enjoy the festival of horrors with your lovely pets and embark on the Parade to the NYC streets with your furry companions. Get some iconic clicks and record some video clips with the best cute poochies and show off your snapshots to your buddies of how cute looking your dog is dancing at the Dog Parade.
29. Met Orchestra in New York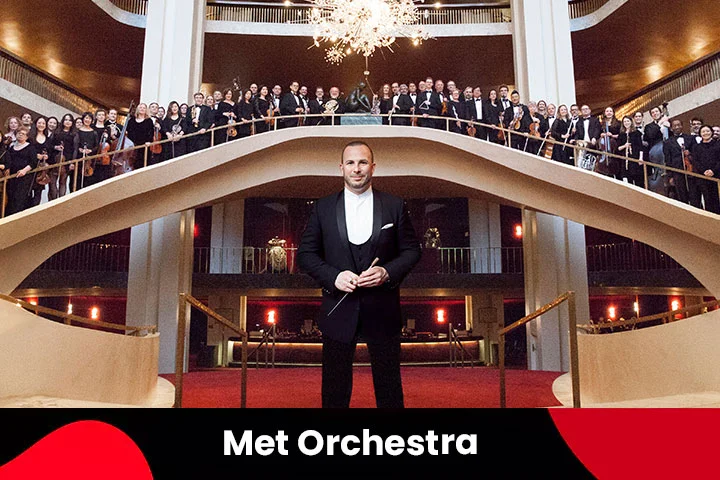 Met Orchestra of the Metropolitan Opera is the glorious tradition of performing live Opera music with the most renowned Orchestra Artists in NYC. The extraordinary series of Orchestra concerts are held at Carnegie Hall, NYC. It's one of the great things to do in New York in May, Spring, and the best Opera music concert events in the Fall season, September, and October, in New York City.
30. Sports events in New York, October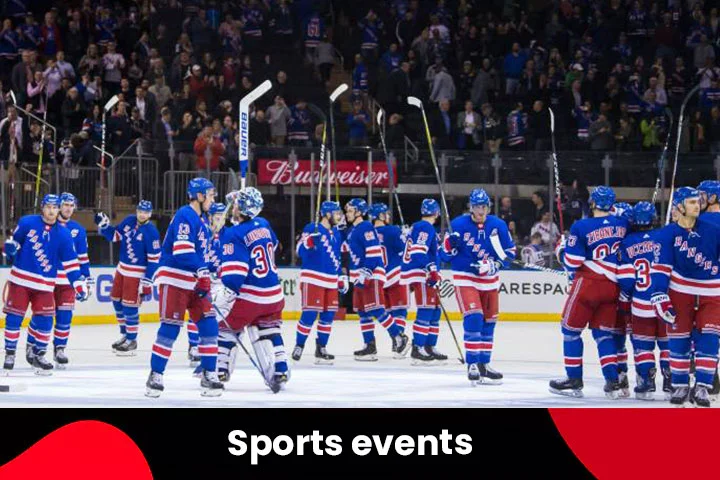 If you're a sports lover and love to watch live sports leagues, here is the list of sports leagues held in October in New York City. Choose your favorite sports league and spots, and let's dive into the game;
There's a significant baseball sports league between the Yankees and Mets in NYC, an NFL Football game with the favorite teams of the Giants and Jets, an NHL Hockey league with NY Rangers, Islanders, and NJ Devils Team players in mid-October, WNBA Basketball Women's League, NBA Basketball teams up with New York Knicks and Brooklyn Nets, and MLS Soccer league teams up with NY Football club and NY Red Bulls.
31. Row Boats in Central Park, New York, October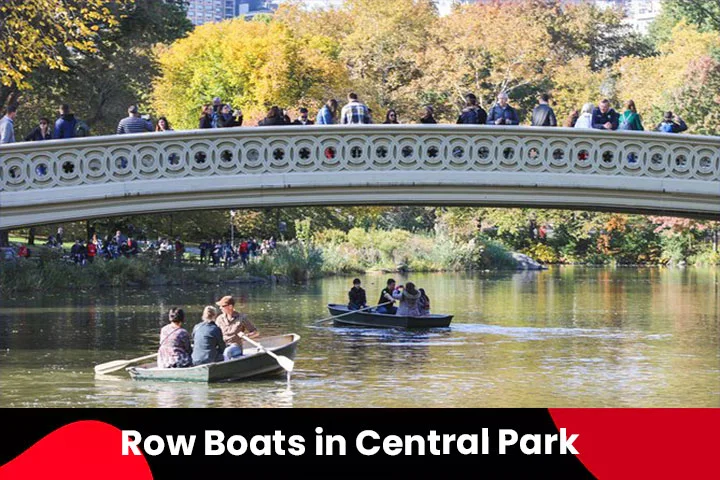 The fall season has excellent glory, and you can enjoy the cool autumn vibes at the most popular Central Park in NYC. Explore the lovely scene of falling leaves from the yellow trees around the park and enjoy the rowboat rides at the Loeb Boathouse on Central Park Lake. Spend an hour-in-a-row boating tour with lake water splashes, cool breeze, and trees around, and enjoy the fascinating landscapes in NYC.
32. Bird Watch in Bryant Park, New York, October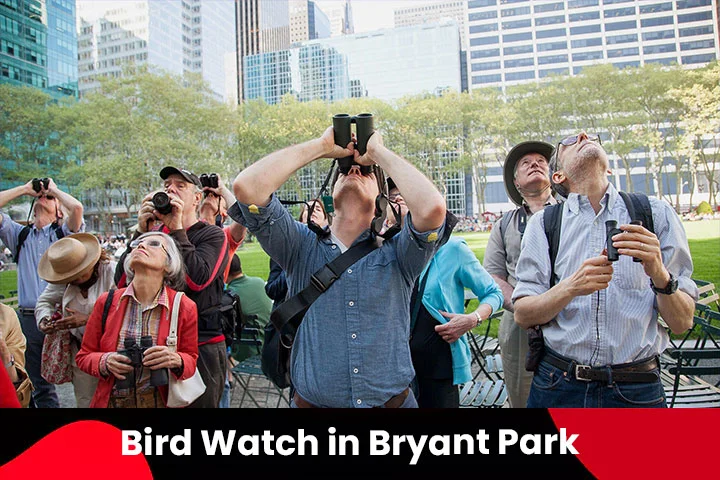 The New York public parks look stunning in the fall season. The perfect color of dark orange, red and yellow foliage, leaves spread on the ground, calm atmosphere, low crowds, and lovely breeze make you more relaxed and comfier in the NYC parks.
Several bird species cross New York City for migration and stay in the lovely city for a while. Over 130 various bird species stay in Bryant Park for the month of September and October. Tourists and new visitors may take a free tour of the rare bird species in the fall season at Bryant Park with some environmental education and accessible information.
Conclusion
New York City is busy in all seasons with fun and festivals and rushing with tourists worldwide. In the spring, the city is bursting with colorful flower blooms, sweet fragrances, and lush green trees, and you can explore the fantastic floral shows in NYC. It's one of the most amazing things to do in New York in April. At the beginning of the summer, you can enjoy the rooftop bars, patio dinners, and outdoor experiences in New York City. All of these fun things to do in New York in June.
You can explore the beaches and enjoy pool parties, speed boating, Jet water skiing, a cruise tour to watch the NYC skyline, and cruise dinners in NYC. These are the most terrific things to do in New York in July. However, there are several other attractions and incredible things to do in NYC in August, at the end of the summer season in New York City. If you're visiting the Big Apple in the Fall season, September, October, and November, you will experience the calm and soothing environment around the city due to low crowds and no rush hours on the streets of NYC. There are lowering warm temperatures, calm wind, and unique attractions in the city in Fall and October.